Taxi in Cologne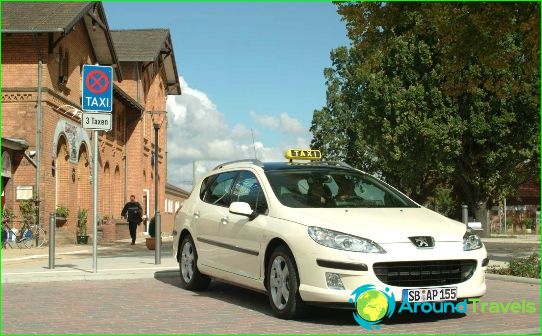 Taxi in Cologne - more than 3000 cars (all of them are equipped with meters), held by the various companies that provide services for passengers.
Taxi services in Cologne
There is nothing easier than to hire a taxi in Cologne: offers - drivers cruising around the city in search of customers (stop them raising their hands) and specialized parking (look for them in popular tourist areas, as well as some shopping centers).
Leave the order for the supply of the machine can be achieved by treatment in one of the well-known taxi companies:
Taxi Ruf Koln: + 49 221 28 82 (this company is not just a traditional taxi driver, but also organizes road trips that involve visiting the main attractions for the passengers);
Kologne Taxi (if you wish, you can usecourier services: Courier working in this company, will deliver the baggage or urgent letters; and, if necessary, you can pay the fare non-cash): + 49 221 920 880;
Kugel Koln Taxi: + 49221760 28 29;
TaxiVIP (accepts payments by MasterCard, Amex, Visa): +49 0176 2316 06 38.
Rental cars and bikes in Cologne
If you decide to rent a bike for this serviceyou pay 2 euros / hour (hire a mountain bike and with the gear shifting will cost 8 euros / 3 hours). Those wishing to offer to take part in bike tours with a guide (this tour will cost you about 12-13 euros).
If you plan to rent a car in Cologne, theshould prepare for the fact that this service will cost you 90-100 euros / day. Important: in the center of the city can move cars with sticker Umweltzone - for its absence you may be fined up to 40 euros.
The cost of a taxi in Cologne
After reading the quotation, you will know how much is a taxi in Cologne:
Planting costs to passengers in the 2.30 euros (this price includes the overcoming of the first 5 km);
in the future the cost of travel is calculated at a price of 1.45 euros / 1 km (at night, on holidays, Saturday and Sunday 1 kilometers will be charged at 1.55 euro);
for the wait will have to pay 25 euros / 1 h;
at night for women and seniors have discounts (do not forget to remind the driver about it).
It is worth noting that in the taxi throughdispatching service to passengers will be charged an additional 0.5 euros. Important: if you are traveling with pets, you should know that the taxi driver the right to refuse you on a trip, for example, if you are thinking of getting into the car with a large dog (the reason for the refusal of carriage may be alcoholic intoxication potential customer).
On average, the trip from the airport to Cologne's city center is 25-30 euros.
Get acquainted with the culture and sights of the charming German city of Cologne can be moving on it on local taxi (the trip can be made at any time of the day).
Photos Taxi in Cologne