Shops and shopping centers in Dresden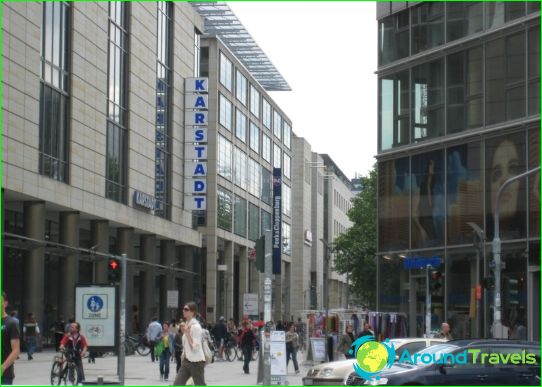 Dresden, with a light hand the German historianArt Herder called the "Florence on the Elbe" because of the location on the river bank, Baroque architecture and collections of art treasures, comparable to Florentine. But not only historical and cultural magnificence attracts many visitors to Dresden. Tourists appreciate the abundance of stores with low prices, and during seasonal sales shopaholic city is filled from different countries who came only for the sake of shopping.
Popular shopping points
The Prague street that starts right from theRailway Station and runs to the city center - the main shopping route in Dresden, and is suitable for all budgets. Of course, the most delicious prices are in the season of sales. This is a street fashion boutiques, shopping centers, antique shops and restaurants. It is strategically positioned on both sides of the street, and recalls a huge shopping mall. Most large stores, "Centrum Galerie", "Karstadt" and "Altmarkt-Galerie". Instead of taking a deep breath, you can have a cup of coffee at the Vienna area - and shopping. After the Anglo-American bombing of the street had to be rebuilt, so that the process will have to run to admire the architecture of the socialist period.
Hauptstraße - beautiful paved pedestrian streetbaroque architecture, it connects Markt Neustadt (New Town Market) and one of the most beautiful squares - Albertplatts. That is, it connects the Old and New Town. On the street you must visit the "Passage of artisans", where you can not only buy items of folk art, but also personally observe how they are made. Especially worth a look here if you are walking with their children. At the very Hauptstraße stores are quite expensive, but the small streets near attractive for its antique shops, souvenir shops, green parks and quiet cafes.
"Passage of art yard" - is five yardsbetween Gerlitsershtrasse and Alaunshtrasse joined the gallery. Each of these once-ordinary urban courtyards decorated in its original style:. Courtyard of the elements, which is particularly interesting in the rain, Garden fairy-tale characters, Garden transformations, etc. The purpose of their creation if the desire was to transform boring yards into art objects, or combined residence and work. These tasks are successfully solved, many tourists enjoy visiting the original shops and cafes under the transparent roof. Sell ​​here paintings, handmade jewelry, original leather.
Pfund Dairy Shop - it is rather a museumprocessing and dairy products, but to buy cheese or milk no one will interfere. Shop for more than a century, it is known as the most beautiful of milk. The basis of the design of majolica tiles with hand-painted. Find it should be on the street Bauttsner Strasse.
Photos of Dresden stores