Hamburg 2 days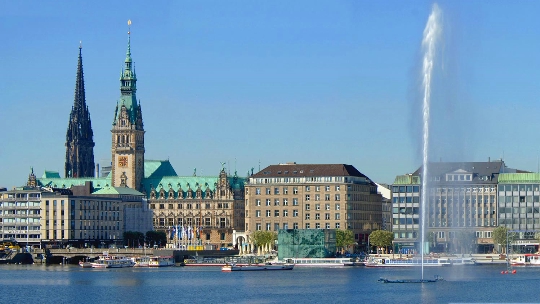 Hamburg called the gateway to the world. The port city is located at the mouth of the Elbe, and his coat of arms depicts the gates. Medieval construction - one of the hallmarks of Hamburg, for 2 days which is quite possible to admire all the major attractions and cultural treasures.
Old center
The main structure of the famous Hamburgconcentrated in the old quarters. The central area sheltered on its stone palm majestic Town Hall, the seat of the city senate and works the mayor. It was built in the late XIX century, and graceful spire on the tower with a clock, it seems, it reaches to the clouds.
Among the other important landmarks worthnote the church of St. Nicholas and St. Michael. The first temple is the second tallest structure in Hamburg. Its construction began in the XI century, and the first church was wooden. Stone version of the elegant Gothic temple destroyed military bombardment during the Second World War, and today it lies in ruins. In the sky flies a 147-meter high tower of St. Nicholas, reminding future generations about the horrors of fascism.
Church of St. Michael, built in the Baroque styleresidents consider the city card. The program of "Hamburg 2 days' tour of the temple should be a must-see destination. St. Michael's Tower welcomes seafarers on ships calling at the port, and its 132-foot bell tower - a perfect place for those who want to make panoramic pictures. By the way, the clock on the bell tower of the church - the largest in the country. Eight-meter diameter dials are clearly visible from the ground, and each hand is covered with gold leaf, weigh more quintals.
Museum paradise
See Hamburg in 2 days, and then visit atto some of its sixty museums. In the vast range of the most interesting exhibits is quite possible to get lost, but the most famous and important museums are worth a visit:
Kunsthalle, which more than 150 years, is famous for its unique collection of paintings.
Dayhtorhallen, acquainting visitors with the works of contemporary art.
Ethnological Museum with a rich collection of archaeological curiosities, found during excavations at the South American and African continents.
Erotica Museum, brought together in their halls of works of modern and ancient art of intimate properties.
Theater-goers will appreciate the opportunity toto visit in Hamburg for 2 days of its drama. For fans of musicals will be a pleasant surprise that the city set on the number of musical performances is second only to the Big Apple and the capital city of Albion.
Photo