Hamburg Street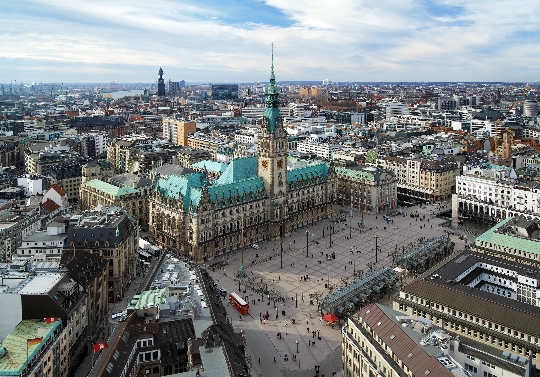 One of the most famous cities in GermanyIt was named the German of Venice as a major sea and river ports. Therefore, the tourist, dreamed of returning again on the streets of Hamburg, it is not necessary to comb the city's neighborhoods in search of the pond to toss a coin. However, there is one problem: the Germans themselves claim that in order to desire fulfilled, a coin thrown not into the water, and on top of any of the piles in the local port.
There is a reason to return
Hamburg - one of the most beautiful and ancientGerman cities, preserved architecture and a wonderful cocktail of cultures and languages. Reasons for returning to the city can be a lot - this business visits, rich excursion programs, visiting well-known plays and musicals, shopping.
His portion of the evening will bring excitementpromenades along the quiet city quarter or walk down the street Reeperbahn, which can give a very thrilling. In Hamburg, as in any city with a history, you can find Old and New Town. It separates them Alsterflit channel.
Natives necessarily lead their gueststhe bridge Trost-Brücke, spread out over the canal. It is with this hydraulic structure are opened the most beautiful views of Hamburg, which is the list of attractions:
Town Hall, consisting of 647 rooms and decorated with Baroque tower;
The Exchange, which is considered the oldest in Europe;
The ruins of a medieval church, consecrated in honor of St. Nicholas, now - an anti-war memorial.
These and many other monuments of German history is also very beautiful day, but even more impressive sight lzhidaet travelers at nightfall and turning on the backlight-illumination.
Quarter thrills
In Hamburg this street is not very goodreputation - for Reperbanom got the name "red-light streets, as the Germans dubbed her a mile of sin and vice. It is at Reperbane and adjoining streets life comes alive at night. Here are located hundreds of restaurants, night clubs, discos. But they do not constitute the main "wealth", and places associated with the sex industry, including strip clubs, museums, sex stories, brothels different plan. In some parts of the Reeperbahn denied entry to women and children.
While on the other hand, the Germans claim that the musical career of the famous Fab Four began precisely at local clubs, so in one of the theater today, you can visit the museum The Beatles.
Photos streets of Hamburg