Hamburg Suburbs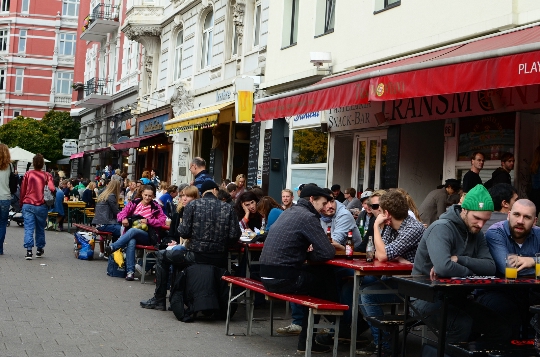 One of the largest cities not only in Germany butand the European Union, Hamburg has a history of the V century AD. Its growth has been associated with the development of sea lanes and the city was the main water gate Germany. The center and the suburbs of Hamburg are always full of tourists who want to touch the fascinating past of "Free and Hanseatic City".
From the heroes of yore
Northern Germany is famous for its magnificent castle, built in the Middle Ages:
At the end of the XVI century in the village was built Ahrensburga majestic castle in the Renaissance style. Its construction lasted more than 20 years. The snow-white castle stands on an artificial artificial island near the house built for the villagers, the school for their children, a mill and a church. The castle surrounded by a moat elegant you can get over the bridge, and in its halls today is a museum exhibition, showing an invaluable atmosphere of bygone days and utensils.
In this suburb of Hamburg, on the banks of the river BilleLocated Bergedorf Castle. Its construction began at the end of the XVI century and continued intermittently for almost 200 years. A small island in the middle of the river is connected to the banks by bridges, and around a magnificent park built of red stone is a perfect example of landscape design. The most enjoyable way to get to Bergedorf summer - a ride on a river boat on the sleeves of the Elbe through the locks.
Duke Adolf I ordered to clear the old pond inReinbek and build in its place a Renaissance chateau. This happened in the XVI century and since then the suburb of Hamburg has always attracted the attention of travelers. The elegant building of the cultural center works and apart from visiting the usual excursions, guests can rent a lock for any celebration - from the wedding ceremony to the feast of jubilee.
UNESCO lists
A suburb of Hamburg Luebeck are not officially listed,but its proximity to Germany's second largest metropolis gives the traveler the opportunity to make a daytrip and discover the interesting past of one of four Free and Hanseatic City.
The historic center of Lübeck is under the auspices of UNESCO, and its main architectural attractions is undoubtedly very interesting and significant.
A miniature of the XV century fortress, calledHolstein gate - the famous symbol of Lübeck. Today, it opened a historical museum, the exhibition which tells in detail about the glorious past of the trade union of the Hanseatic League, which had business relations with the Great Novgorod.
Photo