Hamburg Zoo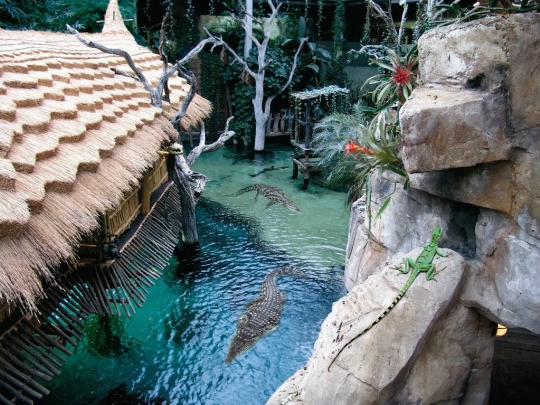 In the German city of Hamburg zoo unique -here for the first time in the world were created by a natural environment for living animals in captivity. Birds and animals got to use trees and rocks, lakes and waterfalls, and visitors become many times more interesting to watch them.
He founded the zoo in Hamburg Carl Hagenbeck - scientistand trainer, has been breeding and selling of wild animals. His name is listed and at the entrance to the wonderful piece of nature in the heart of the modern city.
ZOO Hagenbeck
Carl Hagenbeck's dream that in his park animals will live together in harmony, true, and guests do not experience the zoo in Hamburg nikih problems and discomfort.
At the entrance visitors are greeted by a magnificentAquarium with a variety of aquatic life and all the zoo area of ​​almost 25 hectares. During a walk through its territory visitors must pass no less than 7 km along the paths and trails and get to know more than two hundred species of animals and birds.
Pride and Legend
In 1976, the zoo Hagenbeck appearedPacific walrus named Antje. In 1983, he became a symbol of German television NDR, and his image graced the screens until 2001. After the death of his successors began Antje walruses, acquired in the Moscow zoo.
How to get there?
The exact address of the zoo Hagenbeck - LokstedterGrenzstraße 2, 22527. To get to any place rest of the townspeople and visitors to Hamburg can be on the subway, by train U2 line going in the direction of the station Hagenbecks Tierpark. Also here the next bus routes 22, 39, 181 and 182 minutes
Helpful information
Opening hours of the zoo in Hamburg:
Cash and exhibition open daily at 09.00.
In the period from October 25 to May 2 the zoo closes at 16.30.
May, June, September and October to the 24th inclusive, the object is open until 18.00.
In July and August you can visit the animals to 19.00.
On the eve of New Year and Christmas park closes at 13.00.
Tropical Aquarium is open from 09.00 to 18.00 depending on the time of year.
Ticket prices:
For adults the entrance to the zoo - 20, in the Tropical Aquarium - 14 combined ticket - 30 euros.
For children from 4 to 16 years - 15, 10 and 21 euros respectively.
A family of two adults and two children is eligible for discounts and tickets for it will cost - 60, 43 and 85 euros.
Children under 4 years old are admitted for free, and for groups of more than 10 people are discounts.
Cashier stop selling tickets an hour before closing.
Photos on proof of age is mandatory.
Services and contacts
The park attractions are working, where they like to spend time the youngest guests and a cafe, which is pleasant to refresh after long walks in the fresh air.
Details of the events held at the zoo in Hamburg, it is best to specify on the official website - www.hagenbeck.de.
For more information call +49 40 530 March 30
Photos of Hamburg Zoo