The best resorts in Germany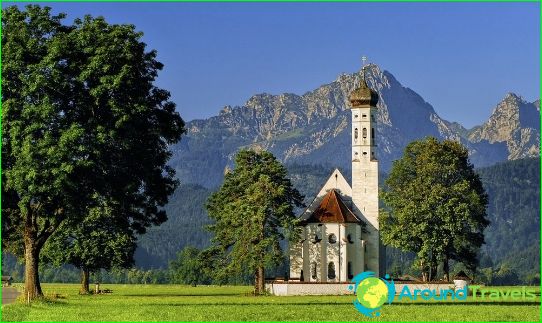 Germany - is very interesting in terms of tourism European country. The best resorts in Germany will help to get acquainted with the amazing history of this country and its cultural heritage.
Baden Baden
This famous German city, famous for the wholethe world for its thermal springs. Even the ancient Romans of noble families chose this town in order to improve their health. The local water is particularly useful in diseases of the heart. It also copes with gynecological problems, helps with nervousness, as well as chronic fatigue.
Roman-Irish baths - a unique methodtreatment used only in Baden-Baden. The principle lies in the following: the person alternately warming "wet" and "dry" steam, and then receives a cool thermal bath.
The city's architecture is quite remarkable: old buildings adjacent to modern hotels, alternate with well-kept streets and create an atmosphere perfect for a measured recreation.
Dusseldorf
The city is not only a tourist,but also cultural and political center of the country. Düsseldorf - Germany's largest exhibition space. Here, on a regular basis are a variety of exposure, attract many visitors. But the exhibition - not the only reason why you should choose a city for your vacation.
The excursion program, which offerscity, very, very rich. Eight centuries, which has the history of Düsseldorf, left him quite rich architectural and historical heritage. You should definitely go to the old part of it - the Altstadt. Here are located the Academy of Art, City Hall, pottery museum and many other interesting places.
In addition to the rich "ekskursionki" this part of the cityjust rife with restaurants, cozy bars and boutiques of famous brands. The restaurant is a must try traditional German cuisine, and when visiting the brewery will appreciate the taste of it Düsseldorf beer "alt".
Frankfurt am Main
City where just an incredible amount ofskyscrapers, is a major financial center in the whole of Europe. However, Franfurt am Main only gives the impression of a serious and impregnable city, but this myth completely fading away, we need only go to its ancient streets, where are doll-like cozy houses of local residents.
Of course, Frankfurt - a place, where theNumerous conferences, various seminars, exhibitions and fairs. But there is another, sightseeing Frankfurt. A stay in this city and explore its Cathedral, the Old Opera House Goethe - an unforgivable mistake.
Recreation and tourism - Germany
Photos Germany resorts