Railways of Germany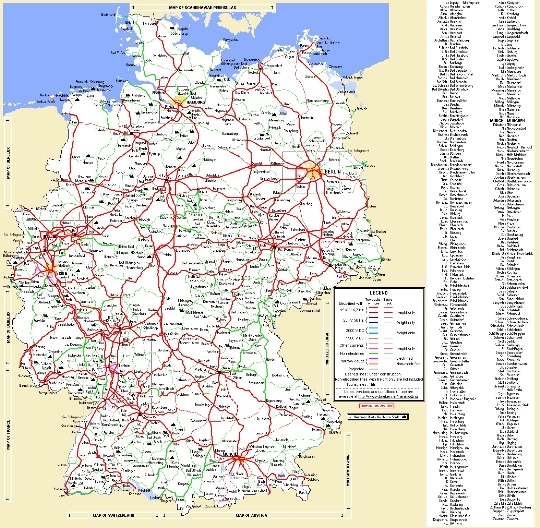 Germany has an extensive rail network. Passengers can easily and comfortably move around the country. Railways of Germany to help reduce travel costs, if intelligently approach the selection of tickets. Railway passenger transport trains presented near and far distance.
What train are applied
Passengers traveling on the express trains typeEuroCity (EC), InterCity Express (ICE) trains and InterCity category D. The compositions develop speed within 330 km / h. These trains are used on lines Cologne-Berlin, Munich and Cologne. Due to the small number of stops and considerable speed, they allow people to save time.
Between the small stations and within citiesused the train S-Bahn, characterized by a bright red color. The composition of the trains include no more than 4 cars. Vehicles of this kind serves as a convenient and high-speed tram or subway, stopping at each station. Regional trains have more cars and do not stop at all stations.
In the big cities direct trains. If the trip time is limited, passengers should use the high-speed German train with IC or EC marking. The train consists of a dozen luxury cars and moving at high speed. Each car has wide seats that resemble aircraft.
Train tickets
Train tickets in Germany areconventional, and group discounts. For a man who strives to see Europe become a good helper bahn.de site, where you can check the train schedule of European countries. Information is published in part in the German language, and many special offers available only to the German version of this resource.
Railroads are the property of Germanycompany Deutsche Bahn. The infrastructure of this mode of transport in the country is at a high level. The quality of service in line with European standards, so travel on German trains is comfortable and pleasant. Almost every village in Germany has a station or train station. Each station is equipped with ticket service, newspaper kiosk, cafe, background, ticket machines, scoreboards with timetable and other. The ticket lists the points of arrival and departure. Tickets for an ordinary train tickets can be purchased online spetstsene on bahn.de. site In some cases, tickets purchased on this website at very low prices.
Pictures of trains and railway maps of Germany roads