Kitchen Germany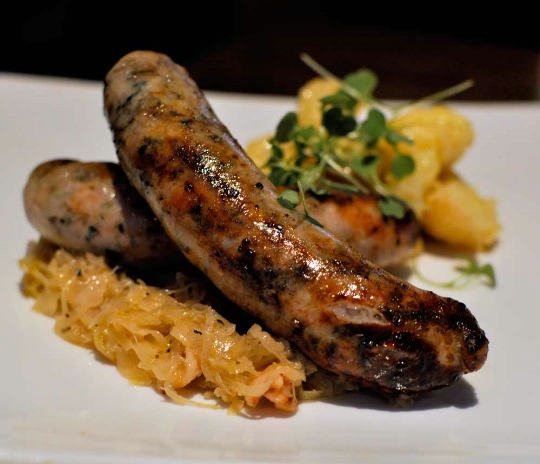 Germany Kitchen - this is quite varied and original cuisine (the menu collection varies depending on the land).
National cuisine of Germany
In Germany, like meat, especially pork, fromwhich prepared the German sausages and sausages. But if you want you can taste quite unusual meat dishes as "Hackepeter" (a dish made from raw minced meat with the addition of eggs, spices, salt and pepper). Quite a large number of Germans consume vegetables, especially cabbage, potatoes, carrots, and legumes (beans, lentils, peas). Tourists are recommended to try "LeipzigerAllerlei" (vegetable stew). Another popular ingredient for the preparation of German dishes - eggs, so you should order an omelet with herbs and potatoes or stuffed eggs in food establishments.
It is worth noting that lures FranconiaTravelers Nuremberg sausages, Cologne - macaroons, Hamburg - smoked fish, eel soup, fried sole, Bavaria - roast pork and sausages with sweet mustard, Erfurt - fried meat with sauce on the basis of beer.
Popular German dishes:
"Vaysvurst" (pork sausage, which serves a variety of sauces);
"Zauerbraten" (beef marinated in vinegar and wine, roasted with apples, vegetables, ginger and beet syrup);
"Schnitzel" (cutlet);
"Shnauzen und sweaty" (stew of sauerkraut and salted pork);
"Tsvibelkuhen" (onion tart).
Where to try the national cuisine?
If you are interested in a quick snack in the form offried sausages or boiled pork sausage, pay attention to the sign "Imbuss". And if you want to thoroughly satisfy his hunger, in Berlin, you can go to a restaurant "Gerichtslaube" (here it is necessary to eat pickled pork leg, roast smoked pork back, homemade cutlet Berlin; the average main course in this institution will cost 10-17 euros ) in Cologne - in "Fruh Brauhaus" (in addition to sausages, pork knuckle and schnitzel here bought beer that pour as long as visitors do not close the glass a special stand), in Düsseldorf - in the "Zum Schlussel" (menu consists of both from rustic German cuisine, as well as of the more gourmet food: try the blood pudding, German soups, grilled fish).
Cooking Courses in Germany
On the culinary courses will be taught in Dresden wishingprepare various sweet cakes - with cherries, apples, cottage cheese, egg cream, and in Hamburg - boiled fish in spicy thick sauce and eel in different variations (eg, fried or boiled eel, which constitutes the basis of soup).
If you're a foodie, allow yourself to committravel to Germany during the gourmet festival (Cologne, February-March), as well as food and wine festival, held in Berlin at the end of February (please guests tastings, master classes and a food show).
Photo