Düsseldorf Metro: circuit, photos, description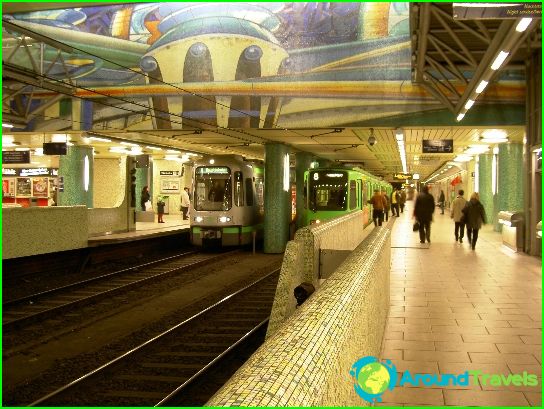 Metro Düsseldorf - Metrotram this system inwhich includes the city tram and train, serviced by the system "Rhein-Ruhr". In total, the city and its environs are seven subway lines, which opened about a hundred stations and stops. Of these, 17 are underground. During the year, the Düsseldorf Metro transports at least 215 million passengers, and the total length of all routes is nearly 70 kilometers.
In the city center of Düsseldorf MetrotramIt is an underground path. The tunnel here - chetyrehkoleyny. All metro line has its own color designations in schemes. Some lines are depicted reaching almost there. In fact, the rails lie on parallel streets, but far enough away from each other.
Metrotram first section was put into operationin 1981 year. He joined the Kennedydamm and Opernhaus. Then the builders solemnly handed townspeople portion from the center to Oberkasselskogo bridge. Dusseldorf is connected to the underground lines to the international airport, which makes it possible to arrive residents and visitors without interference and direct to get to the historical center and residential areas. In 2015, the expected completion of construction of the line, which will link Wehrhahn and Bilk. Today Düsseldorf Metrotram system covers almost the entire city and allows access without interference to any point on the map.
Cars Metrotram used for information "scrolling" and LED displays, all ads are performed in German.
Hours Düsseldorf Metro
Düsseldorf Metro opens for entrypassengers at 4.15 am and runs until midnight on weekdays and until 2:30 am on Friday and Saturday. Interval compositions movement does not exceed 10 minutes in the city. For the city trams run at a frequency of once every 10-20 minutes depending on the route. After 8 pm, the intervals of trains in the underground of Cologne may grow.
Photos Düsseldorf Metro