Metro Wuppertal: scheme, photos, description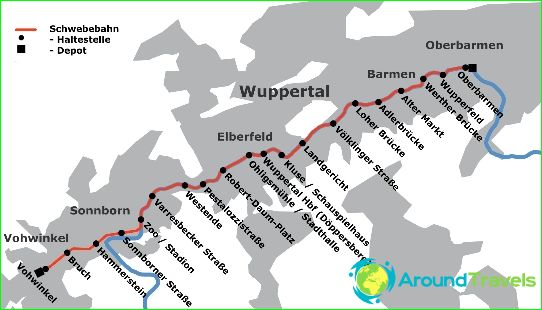 Metro map of Wuppertal
Metro is the German city of Wuppertala monorail, which is suspended on the platforms. It has two tracks, and the total length of its tracks is 13.3 kilometers. 20 stations equipped for the needs of the passengers. Most of the tracks Metro Wuppertal passes over the bed of a river running in the city. The height of overpasses over the river Vuppert is 12 meters. The other three kilometer road laid over city blocks at a height of eight meters.
Suspension Railway Wuppertal there with1901. Despite his advanced age, this type of public transport is very popular among residents and guests of Wuppertal. Annually monorail tramway system Eugen Langen, officially referred to as the underground Wuppertal, carries no less than 25 million passengers. railway line laid through all areas of the city and allows its residents and visitors to quickly overcome the distance to the most important infrastructure of Wuppertal.
Despite the apparent danger designSuspension railway in Wuppertal is considered a reliable vehicle. Nevertheless, the story keeps examples of incidents, the case of the subway passengers Vuppentalya. The worst accident occurred here in 1999, when the train lost traction, found himself in the river.
Another memorable emergency situation in the subwayWuppertal happened in 1950, when the director of the circus decided to advertise his company, a ride on a train ... elephant. Four-legged giant did not appreciate the creativity and ideas, breaking the wall in the car, I fell into the river. Fortunately, there were no unfortunate consequences, as the result of an advertising campaign became slightly injured elephant and several passengers and the image of the passenger with a trunk fallen on the wall between the metro stations and Alter Markt Adlerbrucke.
Hours Metro Wuppertal
Suspension Railway Wuppertal beginsits work at 6.30 am and takes passengers up to 23 hours. On average, the train traffic interval is about 10 minutes. The maximum speed that can develop trains suspended railway in Wuppertal, is about 60 kilometers per hour.
Metro Pictures of Wuppertal
Metro map of Wuppertal