The most beautiful cities in Germany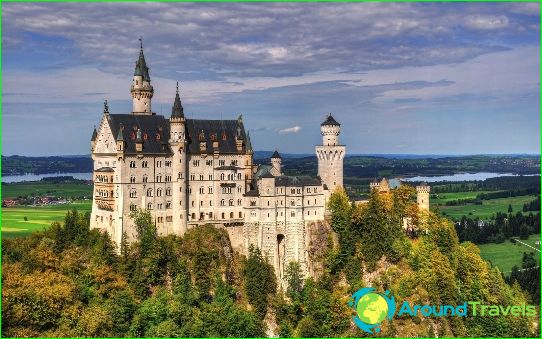 Germany, like many countries, hasmany beautiful cities that are definitely worth a visit for every tourist. It is difficult to distinguish them from some of the most beautiful cities. The article will be considered only a small part of the German cities, which can be attributed to the most beautiful list
Berlin
The capital of Germany, of course, is to get into thea list of the most beautiful cities. In recent years, this city is becoming increasingly popular among German cities. This is partly due to the low cost of tickets, for example, from Moscow to Berlin and back can be reached in about 100 euros, taking advantage loukosterskimi airlines.
Berlin is incredibly beautiful and very clean city -It is a kind of a park and a museum all rolled into one. The Berlin Wall, the Reichstag Dome, Museum Island - is only a small part of the places to visit for every tourist.
bremen
One of the oldest cities in Germany. The pride of Bremen is the largest statue of the knight Roland in the world. Also, walking around town, you can not see once famous donkey, a dog, a cat and a rooster - a statue in the center of the city, signs of various cafes and restaurants, souvenirs, etc.
Hamburg
The second largest city in Germany asIt deserves to be in the list of the most beautiful cities in the country. Hamburg is one of the largest port cities in Europe, but to call it just a port city is not correct. Despite the fact that the city is very popular because of its port, which has all the necessary attributes for the brave sailors, he is also ready to boast of a considerable number of parks, nature reserves, museums and theaters.
Munich
The capital of the largest federal state of GermanyMunich is very beautiful and interesting. Bavarians are sensitive to the culture and traditions, national holidays, such as the Oktoberfest, the locals wear traditional clothing - leather pants, men and women dress with an apron.
The city is also very rich in museums and artgalleries, of which there are 46 and 70 respectively. Where you can find works of great masters of Europe of 18-19 centuries, these works brought to the city by Louis I of Bavaria. Talking about Munich, we can not say about the German Theatre Museum, which holds the entire history of the city, as well as the Museum of BMW, tells the story of the famous automobile brand worldwide.
This concludes our review of the most beautiful cities in Germany, but as mentioned above - it is only a small part of the city, about which you can tell.
Recreation and tourism - Germany
Photo