Prices in Germany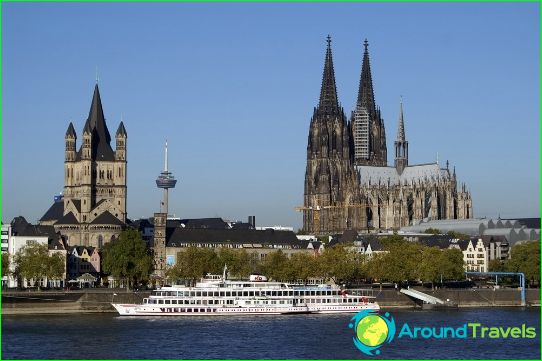 Prices in Germany are quite high, and they differ depending on the region: for example, in Hamburg, prices are slightly higher than in the Ruhr area.
Shopping and souvenirs
For shopping you can go to Berlin, Munich,Dusseldorf, Frankfurt. Here you can go shopping in the various shops, boutiques and multi-storey shopping malls. A perfect time for shopping in Germany - sales season: from mid-July to late August and January.
What to bring from Germany
beer mug with a lid, porcelain,zollingenovskie knives, dolls in national costumes, carved wooden figurines, a variety of nutcrackers, cosmetics, Bavarian hunting hat;
German beer, Moselle wines, schnapps, chocolate, Lebkuchen.
In Germany you can buy a mug with a picture- From 6 Euros, beer mugs - from 5 euros, gastronomic souvenirs (mustard, chocolate, cakes) - 1 Euro, the German cosmetics - from 3 euros, teddy bears - from 5 euros, nutcracker - from 1 euro, porcelain (firm Meissen) - from 30 euros, knives Solingen - from 50 euros.
Excursions
On the tour "Berlin Revelation" you will visit the Berlin Cathedral and the Palace of Charlottenburg, as well as see the Brandenburg Gate and the Reichstag building. 3-hour tour costs about 25 euros.
Entertainment
The approximate cost of entertainment in Germany: the cost of admission to the zoo (Munich) - 14 euros and hour boat trip on the lake Kёningzee - 14 euros.
The whole family should go to DresdenZoo, where you can visit the "African House" and watch the elephants, hamadryas, and various species of tropical birds. An adult ticket costs 12, and children - 4 euros.
Transport
For travel on public transport for 1 ticketMunich, you pay 2.5 euros, while in Berlin - 2-2.3 euros (the price does not depend on the distance and from the town). As for getting around the city by taxi, the planting costs about 2-3 euros (+ for every kilometer you pay 1-3 euros).
If you decide to rent a car, then the rent you pay at least 30 euro per day (depends on the model of the machine and other factors).
Daily minimum spending on holiday in Germany(A room in a cheap hotel, cheap food in cafes and eateries, entertainment limit) will be 60-80 euro per 1 person. But for a more comfortable stay, you will need 130-150 euros per day for 1 person.
Recreation and tourism - Germany
Photo