Munich Metro: map, photos, description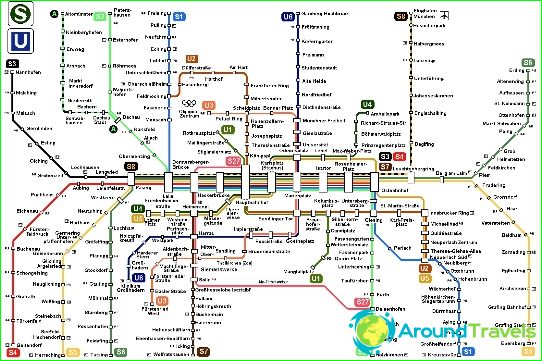 Driving Munich subway
Metro Munich (Untergrundbahn - U-Bahn) beginninghis work in 1971 year. Metro network is integrated into the transport system in Munich and is interconnected with the Munich system S-Bahn commuter trains. Metro Munich currently consists of eight lines serving station 96 (station 100, if a direct station counted twice), and a total length of 95 kilometers of trails.
Plans to build a subway in Munich are1930, when the trams were the main means of public transport in Munich. The Nazis, who came to power, has proposed ambitious plans for changes in the transportation system of Munich, which is also expected and subway construction. Construction began, but left in 1941 at the height of World War II. After the war, in priority, the city authorities have not stood the construction of a new metro system, and the reconstruction of damaged tram tracks. In the 50 years we began to discuss plans for an underground tram, but it was decided to build a "real underground metro" in 1964.
Work started on 1 February 1965 and acceleratedOlympics 1972. October 19, 1971 the first line started its work between Kieferngarten and Goetheplatz with a total length of 12 km. May 8, 1972 open area between Münchner Freiheit and Olympiazentrum ( "Olympic Line"). After 10 days after the opening of the Olympic Games in Munich S-Bahn started its full operation.

Hours Munich subway
Suspension of the metro - from 1 to 4 am onweekends - from 2 to 4 am, except holidays. Intervals of trains at the usual hours of 10 minutes, and during peak hours - 2-5 minutes.

Munich subway lines
Most of the stations are two-way with the islandplatform between them. Only the station Olympia-Einkaufszentrum (U1), Richard-Strauss-Straße (U4), Neuperlach Süd (U5), Garching-Hochbrück and Nordfriedhof (both U6) have side platforms.
Besides U5 lines and U6, all lines of Munich subwaylocated throughout its length below ground. U5 line runs above ground on its southern section Neuperlach - Süd, U6 on the northern section from Studentenstadt (except Garching stations and hauls and Garching- Forschungszentrums).
In Munich's subway has three "familyline "routes which have a common path in the city center. Timetables on these lines are coordinated in such a way as to ensure regular intervals movement of trains on the same property. The stations Scheidplatz and Innsbrucker four paths lie in parallel on the same level, where we have introduced cross-platform sharing.
Munich subway trains its differentspeed of movement - they operate at speeds up to 80 km / h, the maximum speed among German subways. The Munich trains good noise isolation, at each station are equipped with electronic board indicating the time of arrival of the train. To enter and exit the car to press the button located at the door.

Tickets for the Munich subway
At the entrance to the station validators installed wherePassengers yourself punching tickets. Do not punch tickets - are invalid. On controllers work routes. Tickets are valid on all forms of public transport in Munich. You can buy tickets from vending machines installed in the lobbies of stations. How to get children up to 6 years in the subway of Munich and the entire public transport - free.
Photos Munich subway
Driving Munich subway