Munich 1 day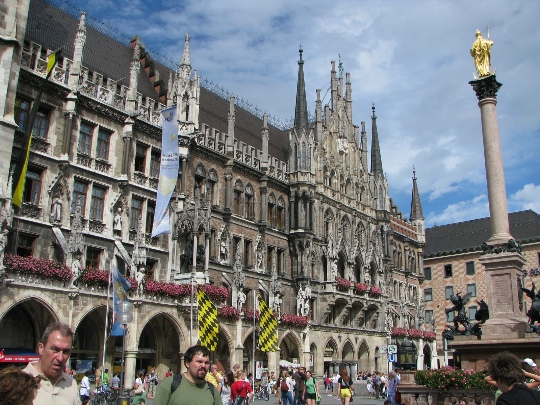 The capital of Bavaria, Germany occupies an honorable thirdline in the list of the largest German cities. Its main attraction - the brewing tradition and the six major factories, including an honorable duty of supplying foam drink the famous Oktoberfest. Once in the city in late September, it's easy to see Munich for 1 day, if to take a seat on the Oktoberfest. And about the city willing to tell the neighbors on the table, as German beer, like nothing else, brings together all kinds of people.
Two age - two Hall
Fly to Munich for 1 day - great idea andfor other times of the year. Walk the best start to the Marienplatz, where organized a pedestrian zone, and Old and New Town Hall become objects of attention of tourists. These buildings were in different years, the premises, the seat of the city council.
Construction of the Old Town Hall dates back to the end of the XIVcentury, and New erected in the early twentieth century. World War II caused the destruction of the Old Town Hall. Its restored building is now the Museum of toys. The New Town Hall can be reached by elevator 85-meter tower and admire the panorama of Munich with bird's-eye view. The clock on the tower of the present day suit idea for everyone who was on the Marienplatz. At exactly 11 o'clock the bells begin to beat, but the figures in the windows of the tower act out scenes from the life of Munich. The action lasts 15 minutes, and in the summer it is repeated twice more - at noon and at 5 pm.
City of churches
To work around the old part of Munich for 1 day isreally. There are many churches, each of which is an interesting architectural monument. The symbol of the Bavarian capital - the 99-meter high Holy Virgin Cathedral. Its construction was started in the middle of the XV century, and since then the two towers of the temple with round domes and a clock visible from anywhere in the city. By the way, the decision of city authorities in Munich forbidden to build higher buildings, so as not to obstruct the view of the magnificent Frauenkirche.
For fans of the old architecture in Munich offers an impressive list of cathedrals worthy of leisurely contemplation:
Temple St. Michael's the end of the XVI century with the tombs of kings.
. St. Peter's Church - the oldest in the city. The first stone of its foundation was laid in the XII century.
Asamkirche late Baroque.
Theatinerkirche with a huge 70-meter dome.
Photo