New Year in Munich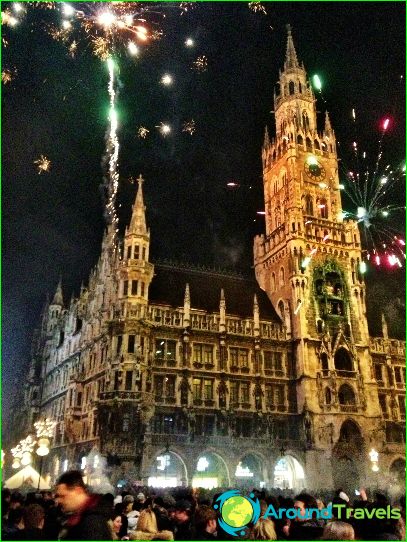 The capital of the German state of Bavaria, Munich is famousall over the world for its amazing cuisine, beer, interesting museums, this royal castle, the Alps in the immediate vicinity, and endless possibilities for shopping in its unlimited outlet shopping. All together, this is an excellent reason to stock up on airline tickets and see the New Year in Munich.
Beer bread ...
All the wonders of the Bavarian cuisine is availablein almost any restaurant in Munich. It should prepare for the fact that every dinner is delayed in time, because the break of raznooobraziya and grandeur, which offer local chefs, is almost impossible. Moreover, it is necessary to bear in mind that the Christmas meal is in danger of turning into a very long marathon of eating delicious hot dogs and sausages, pretzels and flavorful cabbage. But the apotheosis of the Munich celebrations - this is without a doubt, Bavarian beer, which cooks almost every restaurant.
To enjoy the soul
Take a walk after a hearty meal in the New YearMunich is where. Firstly, it will be pleasant to look at the richly decorated for the holiday town. Lamps and Christmas trees, shop windows and citizens at home - everything shines, sparkles, shines and invitingly winking thousands of colored lights.
Fireworks in honor of the New YearIt begins with the last kick of hours. It is best to watch from a hill in the Olympic Park or at Marienplatz. By the way, the traditional venue for autumn Oktoberfest beer in the winter is not empty: there Tolvud festival and numerous public events with the participation of musical groups and popular DJs. The program - a party with dancing, carnival parades and costume balls.
Photos of New Year celebrations in Munich