Prices in Munich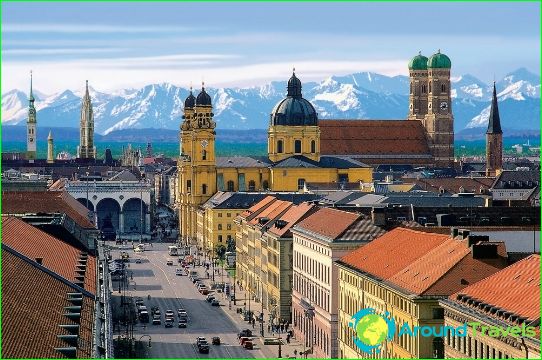 Munich is a popular tourist cityin Germany. Even the country's capital, tourists visit less often. The reason for this lies in the fact that it was in Munich Oktoberfest. The festival takes place in September and October. Therefore, in these months the city has a high season. Prices in Munich during Oktoberfest take off several times.
Accommodation of tourists
If you plan to visit the city in the highseason, the place in the hotel must be booked in advance. The best options book the year before the visit. When choosing a hotel, consider not only your budget but also the purpose of the trip. If you want to save, then stay in a hotel near the train station. Accommodation is cheap there. The hotel near the station - is the best option for those who are planning to travel frequently from Munich for sightseeing.
The city has hotels with different star rating: from modest establishments to luxury 5 * hotels. Remove the double room for a day can be from 50 to 1,600 euros. Accommodations are available at the Marriott and Hilton hotels in the famous. Room in a good 4 * hotel costs about 8000 rubles per night.
Tours in Munich
The average cost of entrance tickets to the museums is11 euros. If, during the inspection tour of the museum is provided, then you have to pay extra for a ticket. Sightseeing bus-walking tour of Munich is 130-280 euros per person. Sightseeing tour through the city will cost 180 euros. A trip to the Alps for 8 hours visit to the castle is worth a minimum of 480 euros, if you go with an individual tour. Beer lovers offer beer tour with visits to breweries and beer tasting. Entertainment cost at least 100 euros per person.
Where to eat in Munich
The city operates a lot of institutionsCatering. Stay hungry there is unreal. Good and inexpensive meal can be in any area of ​​Munich. On every street there are restaurants, cafes, taverns and pastry. All restaurants serve larger portions. Usually dinner includes a generous portion of meat, a side dish of potatoes and cabbage. To order food fresh beer. A full meal costs 15 euros. A mug of beer separately - 3 euros. In the cafe you can get to the business lunch, tasting the soup for 3 euros. there are Chinese and Turkish restaurants in Munich. Prices are low. The average bill is 5 euros. If you wish to prepare their own meals, shopping for groceries. Milk (1 liter) costs 1 euro, potatoes (1 kg) - 1 euro, chicken - 5 euros.
Photo