Tours in Munich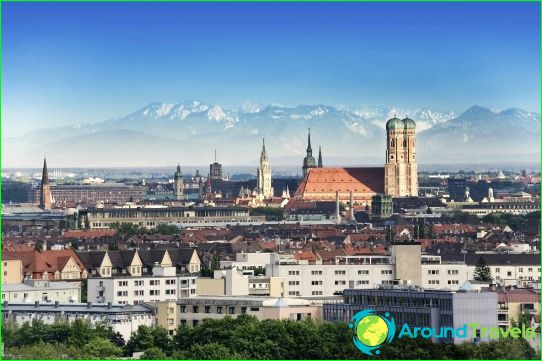 Every year, the ancient capital of Bavaria, a beautifultown called Munich, many tourists come, who want to enjoy the stunning architecture of the Old Town, see the popular beer festival "Oktoberfest". Sightseeing tours in Munich will open in front of you all the beauty of this large, sunny city, as well as talk about the culture of the people and their traditions. Ordering fascinating excursions in Munich, you can explore the richness of the local museums and castles.
The most popular excursions in Munich
Herrenchiemsee Palace - Bavarian Versailles - itbeautiful castle, which was built by Ludwig II in the Chiemsee island. The beauty of this castle can impress even the most demanding tourists. No one can remain indifferent to the huge amount of gold, porcelain and crystal. Around the castle is equipped with an amazing park with fountains.
An unforgettable trip in a balloon. Probably every tourist ever wanted to climb into the sky in a balloon. Now there is such a possibility. You can make an unforgettable hot air balloon, which will open with all the beauties of Munich.
BMW Plant. During this tour you will visit the Bavarian carmaker, which is located in Munich. During a tour of the workshops of the factory, you can see how going to the famous car brand. After visiting the factory, you can visit the BMW Museum.
Neuschwanstein Castle - one of the most beautifulcastles, built by King Ludwig of Bavaria II. Under the beautiful arches of the castle, you will be able to understand the purpose of the "mad king", who tried to make their country a fabulous paradise. Too many people in this castle looking for his inspiration. In Neuschwanstein you will see fascinating exhibits, learn about the history of the castle and visit the Swan Edge, which is considered the most beautiful place in Bavaria.
New and Old Pinakothek. It called Pinacoteca art gallery, which is located in Munich. This gallery is one of the most famous galleries in the world, are the works of masters of the Middle Ages. You can get acquainted with the German, French, Italian, Spanish, Dutch and Flemish painting.
Having been on tour in Munich, you will get to know about the customs and traditions of the inhabitants of this ancient Bavarian city.
Photo Tour in Munich