Shopping in Munich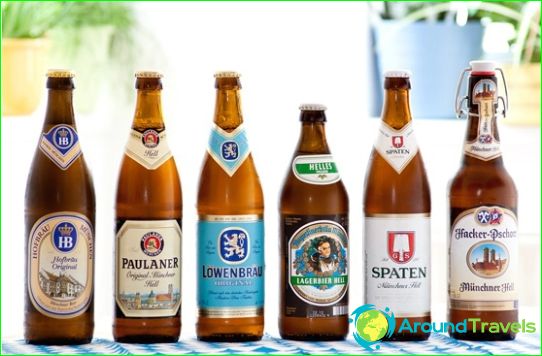 Munich - one of the most popularGerman tourist town, where you can enjoy the many sights, enjoy a tasty beer, and make all kinds of purchases. In addition, Munich has created all the necessary conditions to ensure that shoppers feel real professionals. Many famous brands boutiques, shopping centers, seasonal sales, a wealth of choice and affordable prices attract the capital of Bavaria, who used to spend on the purchase of a decent and indecent money.
Choose items that you can bring to this city is huge and it is not surprising that the majority of tourists are racking their brains over the question - what to buy in Munich?
Souvenirs. The most traditional gifts are gifts, including handmade. Local craftsmen can offer anything that has anything to do with the Bavarian land - from unusual whistles to expensive national costumes. As in many other cities around the world, in Munich you can find many souvenir shops with a variety of interesting souvenirs. The most popular souvenirs that tourists buy are a variety of magnets with the symbols of the city, beautiful mugs for beer, wooden figurines, pewter and so on.
Designer clothes and shoes. In addition to souvenirs from Munich quite often bring clothes and shoes of German designers. Things have a very high quality, so they will be more than one year. The level of luxury stores you can buy the latest collections of clothing brands Versace, Gucci, Escada, Dolce & Gabana, Guy Laroche and so on. Their boutiques are located mostly in the central streets of Munich.
Jewellery. What to bring as a gift from Munich girlfriend? Of course, jewelry. In the Bavarian capital can buy an inexpensive and original jewelry. Especially popular in Munich also use Swarovski crystals and their products. The city has a lot of Swarovski salons, where you can buy a variety of jewelry, souvenirs, figurines and just the crystals themselves.
Watches and electronics. Expensive watches European brands - perhaps the best gift that is brought from Munich. And all this with a rich choice, quality and reasonable prices. With regard to household appliances and other electronics, including cell phones, a huge range of shops in the city. Apple Store in Munich is the largest in Germany. Therefore, the most logical would be to acquire the latest models of phones and iPhones here. Such a purchase will always be successful and is perfect as a gift.
Drinks and food. Well how can you leave Munich without buying for yourself and your friends a few bottles of the delicious beer, but also German cheese and sausages, which will be a great appetizer to this intoxicating drink. For travelers in Munich runs an entire industry, manufactures a wide variety of goods and souvenirs at the pub theme.
Number of Photos in Munich