Rivers of Germany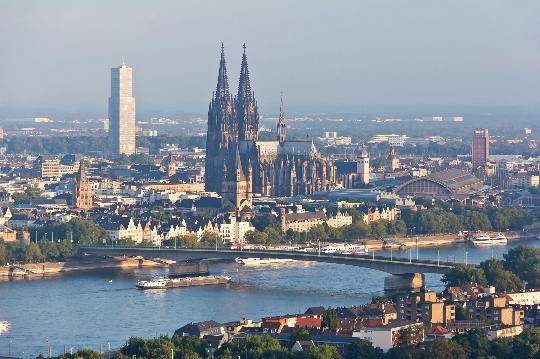 Germany River have a total length of over 7000kilometers and carry their water and the territories of neighboring states. The largest water artery of the country - the Rhine, Oder, Danube, Elbe, Weser and Ems. And if the path of the Danube ends in the Black Sea, the other rivers of the country in a hurry in the North and Baltic Seas.
Large rivers are mainly in the west of the country. The main water artery of Germany - Rhine. Many rivers are its tributaries. Independence are just a few: the Weser; Neisse; Elbe; Oder.
Rhine
Call it the German Rhine river, you can not,as it flows through the territory of several states. The total length of the Rhine - more than 1300 kilometers. The source is located in Switzerland. In the country it falls in the middle reaches, passing through pretty scenic.
In its upper reaches the river often overflows its banks, taking a meltwater Alps. That is why the lower reaches of the Rhine never experience problems with water supply.
In the waters of the Rhine are many hiking trails.
Danube
The source of the river is located in the hills of the Black Forest. From the river rushes to the east. The waters of the Danube crossing the territory of the ten countries. The river is navigable most of the year. Exception - a couple of winter months. During warmer months, the problems with traveling on the waters of the Danube there.
Oder
River captures the land of three countries - the Czech Republic,Poland and Germany. The source is in the Sudeten mountains of the Czech Republic and beyond the river passes to the shores of the Baltic Sea. The history of the river is unusual: once on it lay part of the route for the delivery of Baltic amber in the Mediterranean countries.
The river will be interesting and just as a place other thanfishing. Where you can catch the following representatives of the kingdom of fish: trout; catfish; walleye; carp; eel. On the banks of the river are many reserves and parks.
Weser
The river is wholly owned by Germany. The origin is the confluence of the rivers Werra and Fulda (destinations of Hannoversch Munden). In its origin the river is ninety meters wide, and at the confluence of the waters of the North Sea to the grand diverges eleven kilometers. Average ocean vessels easily ascend to the city of Bremen, which is 70 kilometers from the sea coast.
Elbe
Elbe flows on the territory of the two countries - the Czech Republicand Germany. The source is located in the Czech mountains (Giant Mountains). The main part of the river belongs to the German state, where is its place of confluence - North Sea.
Elba has a message from the Baltic Sea and other rivers through canals. Some of them are preserved and well functioning ever since the distant Middle Ages.
Photo