Shopping in Germany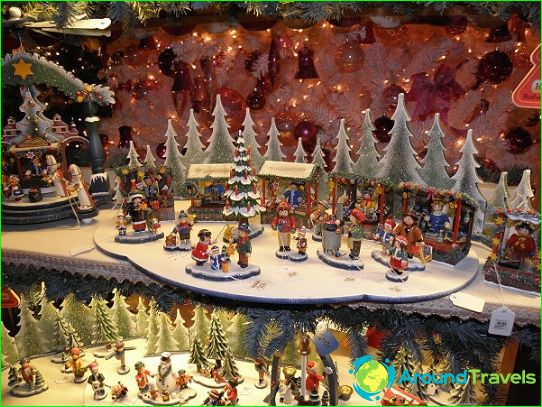 Many tourists who come to Germany,It attracts shopping in this European country. Large shopping malls, shops and boutiques, which represented Clothing, footwear and accessories of the best brands, small souvenir shops - very popular among tourists. Here you will have a great opportunity to buy products of recognized manufacturers in the world at a discount of 10-70% - in the shops at the factories. Prices are stable throughout the year, there are seasonal sales, and operating system Tax Free.
The most difficult thing in Germany - among the whole set of products to buy true German gifts rather than honest Chinese fakes. So, now, the German:
Beer, for example, or a Weizen Vaysbir-fermenting wheat fermented beer with an alcohol content of 5 to 5.4%. with spicy fruit flavors, Pilsner - brewed since 1842, drunken Altbier, schwarzbier - black "peasants", which gives strength, Cologne Kölsch beer, rye and March beer (Mertz), smoked beer beer with a "smoked" flavor. All this magnificence can be supplemented by the German "vyurstami" - sausages with beer. Good to drink German beer from the traditional German mug painted with a lid.
Eiswein - sweet wine with a taste of honeyfrozen overripe grapes hand-wringing. Strong liqueur Jagermeister - infused with 56 herbs and a good schnapps, which is said to aid digestion.
Porcelain company Meissen, which is already more than three hundreds is produced and painted by hand paints from his own laboratory. Buying a new statuette tea or a couple, you will immediately become the owner of antiques. Cost appropriate.
Sweet Tooth will delight confectionery, chocolate, candy, and cookies with frosting - it is something incredible - decorated with chocolate, nuts, jam - very tasty and fragrant.
Souvenirs: pewter glasses with hunting, marine and pastoral scenes, nutcrackers, decorations on windows, wooden toys and Christmas tree from «Kathe Wohlfahrt». German Bears - symbols of Berlin and bears Clemens factory. There are collectible bears Clemens with passports with information about the artist, number of copies, a personal room.
German Nivea cosmetics, Schwarzkopf, Essence. Prices - almost two times lower than the Russian, the quality is incomparably better. In addition, the selection of products of the German stores of these brands are much larger than ours.
Kitchen brand Solingen produces forgedGerman knives, manicure sets and cutlery. Good quality and price rather big. You can find them in specialty stores of the manufacturer Wuesthof and shops of household and household goods.
In Germany, the VAT can be returned at a rate of 19%. Keep receipts for purchases above 25 euros and fill in the declaration, to present them with the goods at the customs office.
Recreation and tourism - Germany
Photos of German goods, shops and markets