Shops and markets in Leipzig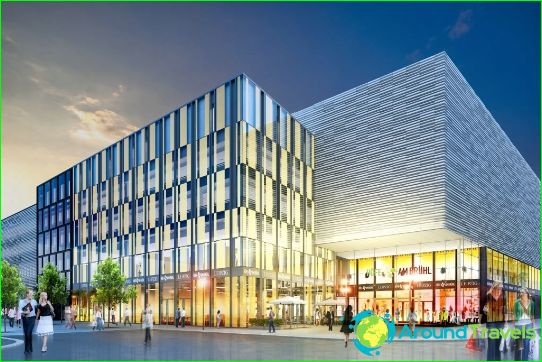 Leipzig - the capital of the federal state of Saxony,largest city in Germany. It is known, including its international fairs. Therefore, its second name - Messestadt (town fair). They are held annually over 25. This phenomenon has historical roots. Accommodation Lipsk formed at the crossroads of two important trade routes - the Royal and Imperial roads. The main source of income was the sale of the villagers.
Arcades and shopping centers
Leipzig is notable for its shopping arcades. They flow smoothly into one another. Walk on the indoor galleries can be called a cultural and architectural tour, and shopping. In the city in the autumn organize holiday passages (Leipziger Passagenfest), to which the Times various cultural and gastronomic events.
The most famous passages of the city - Maedler,Koenigshaus, Barthels Hof, Petersbogen, Specks Hof, Strohsack. Of course, they combine luxury brands in the exquisitely decorated stores also offer products from all over Germany. Fashion connoisseurs forget about worldly affairs, getting here.
The railway station building is also trendy and famous shopping center Promenaden. In addition to the variety of products it offers visitors a cultural and entertainment program.
Paunsdorf Center is located in the same areacity ​​at some distance from the center, but has a good transport infrastructure, so to reach it by public transportation without any problems. It is the largest shopping center of Leipzig and the second largest in Germany. Household appliances, electronics, jewelry, clothing, food - all the traditional filling shopping malls represented in it.
Trade fairs
Christmas market opens in the last daysthe outgoing year in the historical part of the city on the square in front of the town hall. Santa visits the market every day and talks to the kids. Here you can walk in a magical forest and count the days until the feast of the longest Christmas calendar, listen to choir boys, attend a parade of brass bands and, of course, to buy gifts for friends and relatives.
Going to the flea market is associated with passion. Suddenly, under a pile of things I will be able to find something interesting and buy for a penny? In the last weekend of each month at Bornaische Strasse arranged antique flea market. And on Saturdays Kohlrabizirkus, working night flea market from 15 to 23 hours. If Asian countries organize evening markets due to climatic features, the more important for Europe - many people work even on weekends. In the evening hours the guests can relax and take a nice hunt for rare books and vintage.
Photos Leipzig shops