Suburbs Stuttgart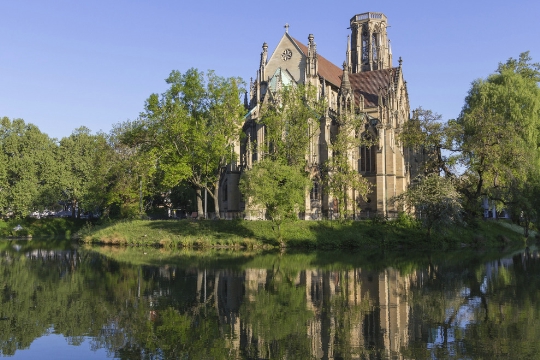 The cradle of the German automotive industry Stuttgart -one of the largest not only economic, but also cultural centers in Germany. Once you are there on vacation or on a business trip, guests of the city like to visit places of interest, get acquainted with museum exhibits and, of course, take part in the beer festival "Fryulingsfest" starting on the outskirts of Stuttgart in late April.
In the homeland of Schiller
The famous German poet, philosopher and playwrightHe was born in a suburb of Stuttgart. The town of Marbach is spread in two dozen kilometers to the north of the metropolis and surrounded by vineyards and orchards. Even in the tenth century mention of the city is found in the annals, and its most important attractions are located on the medieval streets of the old center.
The house where Friedrich Schiller was born todayIt turned into a literary museum. It contains personal items that belonged to the poet and his family, important historical documents and first editions of books. The park operates Shillerhёe exposition Literary Archive, which contains interesting rarities of German poetry and prose of XVIII-XIX centuries and documents relating to the development of literature in Germany.
The city on the hill
Tübingen is located on the hills in the valley of the River Neckar and a third of its population - students. This suburb of Stuttgart is known as the youth, not only in the region but also in Germany.
The main historical and architecturalLandmark Tübingen - Cistercian monastery, founded in the XII century. On the territory of the monastery preserved ancient cemetery and tarpaulin, dormitory with 29 cells and the refectory of the XVI century. The garden at the monastery is a magnificent example of landscape art and the green tower is considered the hallmark of this suburb of Stuttgart.
Tübingen looks very elegant and beautiful inany time of year. Special style give him a half-timbered house - with white walls, dark beams seemed dashed. In the central square you can admire the old fountain and taste the many local beers in one of the city's restaurants.
The list includes
In the suburbs of Stuttgart, there are numerous medieval castles, which can be inspected to devote a few days of vacation:
Ludwigsburg offers its guests a tour of the castle of the first third of the XVIII century.
In the town of Bad Cannstatt Rosenstein stands the XIX century castle, surrounded by a magnificent park with sculptures and fountains.
In the suburbs Pliningene can feel brave knight or a princess rescued on a walk through the castle Hohenheim, built in the late XVIII century.
Photo