Taxis in Germany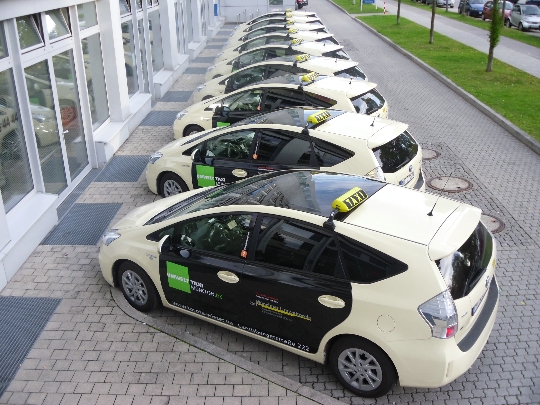 Berlin, Munich, Dresden, Cologne - arethe list of the most popular tourist destination of German cities with a rich cultural and historical heritage. Travelers usually surprised the ability of local people exactly all count, with full responsibility to take their responsibilities, especially with regard to visitors, so a taxi in Germany works just like a clock.
Price policy
In Germany, there is no single tariff in force throughout the country. But the big difference is also not observed between the cost of a kilometer in the German hinterland and in the capital.
Somewhere in Brandenburg can be a breezea ride through the city, paying per kilometer is less than 1 EUR. But in Bavaria, so often host guests, the fare is 3 EUR nobody seems high. In most cities, taxi drivers adhere to the golden mean - 1,5 EUR.
There is one secret, high-value refers to the first kilometer, if the trip is longer, then at the second kilometer of the cost is reduced.
Who is right?
Sometimes there are cases where the driverTaxi refuses to take the client. The reason for refusal can not be a short distance to be traveled by the passenger or luggage impressive. The reasons are usually more substantial - a threat to life or health of the driver or customer insolvency, expressed explicitly.
man's best friend, or rather, the passenger, the dog alsocan cause failure of the taxi driver, as well as dirty clothes, drunk man. However, in special cases, when in any German city are very fun events with copious libations, taxi drivers will not give cash in on drunk citizens, treating them fairly tolerant.
There are rules in force in favor of the passenger,which has the right to choose what car to go to him. If the first taxi he is not satisfied by any parameters, it has the right to refuse and go to the next.
Telephones German taxi services
Taxi Deutschland 22-456
Taxi Berlin 479-811
Go Taxi 479-803
About a drop of nicotine that kills passenger
Another rule applies to smoking duringdirections. More recently, a taxi estimated potential customer from the point of view of the possibility or not to smoke in the cabin. Now introduced a general prohibition, so a taxi driver had to give up the habit, as well as passengers, but only for the duration of the trip.
Photos Taxi in Germany