Trains in Germany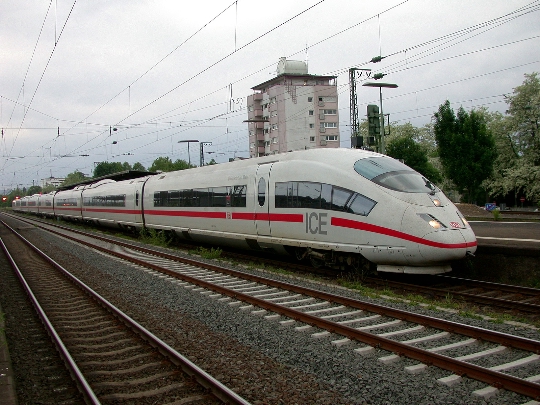 The most efficient railway systems of the worldGerman concerns. German trains are more popular than other types of transport. All regions of the country are covered by a dense railway network. German train system is very branched. Trains are suburban, regional and mainline. Most of the routes are characterized by heavy traffic. Major railway stations in the country are functioning around the clock, a small closed at night.
Tickets for the train in Germany are not cheap. Understand the complex system of tariffs, tourists can move around the country, saving money. It uses the basic rates that allow you to make a stop on the selection and go to any train on the desired route. Such fees are expensive. If you buy tickets in advance, tickets are available Sparpreis (coupon). They have a pre-sale for all routes. Planning a trip in advance, you will be able to buy tickets much cheaper. Discount offers are available for long-distance and regional lines. The day on sale there Wochenende-Ticket tickets which allow unlimited travel on regional trains in the country.
Types of trains
According to the German rail road transport are committedOn average, short and long distances. Basic high-speed trains are on long-haul destinations. This ICE or Inter City Express, a maximum speed of 320 km / h. Typically, they are moving at an average speed of 160 km / h. Each car is equipped with a climate control system and on-board radio. For passenger cars, there are first-class displays for viewing TV programs on-board. These trains are equipped with amplifiers to provide a high-quality mobile communication.
At night in Germany for trainsInter City Night. They run between Hamburg and Munich, Berlin and Bonn, Berlin and Munich. The trains are equipped with 4- and 2-seater coupe, seating area, restaurant and bar.
Between the shopping and industrial centerscountry runs 170 train Inter City, which run at an interval of one hour. Large and medium-sized German cities are linked by train Inter Regio, following every two hours.
How to buy tickets
Train schedule in Germany is available onspecialized sites. Tickets can be ordered by phone or online. When ordering over the Internet, customers are issued primarily low cost and coupon options. F / tickets can be purchased at the station ticket office or ticket machine. Some passengers buy tickets from the conductor on board composition. But fare increases with 10%.
Photo