Where to eat in Düsseldorf?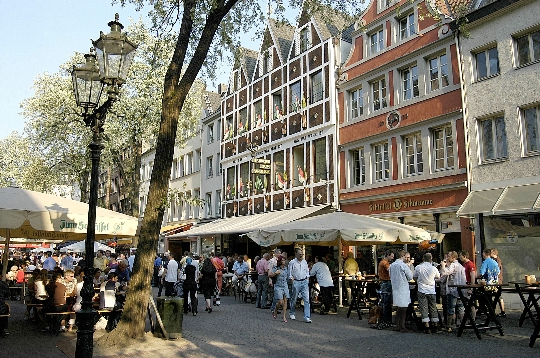 Thinking about where to eat in Düsseldorf? The town has many cafes, Italian, Chinese, Thai, Spanish, Mexican restaurants and eateries. So, just in the old town you can eat at any of the 250 schools, serving traditional German and international cuisine.
Where to eat in Düsseldorf cheap?
Inexpensive meal can be in German pubsor taverns - here it is worth to try the schnitzel, splints, salted cabbage, German sausages ... So, in a beer Brauerei Zum Schlussel you can order a beer for 1.7 euros / 0.25 l, snacks - from 2.5 euros, meat dishes - from 6 euros.
Where to eat in Düsseldorf tasty?
Altstadt: this restaurant specializes in German and European cuisines. Here you can enjoy delicious meat dishes of lamb, veal, pork, turkey. The menu has steaks (pepper-lomo, royal-lomo, house-spit, acute Mexican steak), steaks, fish dishes (bream, perch, salmon). A sweet tooth can then eat pancakes with hazelnut and chocolate sauce, strudel, vanilla ice cream and liqueur. Sample prices: veal steak - 15 euros, salad - from 4 euro, fish dishes - from 14 euros, cheese plate - from 7.5 euros, a plate of traditional sausages - 12.5 euros.
Viktorian: the Michelin restaurant specializes in international cuisine. It serves ayfelskuyu venison, British mussels, goose liver, cheese, a variety of desserts, German, French and Italian wines.
Fish House: This fish restaurant is to eat mussels in the Rhine in white wine, fish soup, mussels in Provençal with herbs and tomatoes, fresh oysters of various kinds.
Poccino Shadow Arkaden: this restaurant offers a taste of Italian cuisine, particularly Neapolitan and Sicilian cuisine. This place - a paradise for the sweet tooth: they can then enjoy the Sicilian cannoli, almond cookies, tiramisu and a variety of pastries.
Zum Schiffchen: This restaurant offers its guests to try German and French delicacies as smoked salmon with crispy baguette, mushroom soup with red wine, ice cream with hot cherries and chocolate.
Gastronomic tours in Dusseldorf
On the gastronomic excursions in Dusseldorf youoffered stroll through its historic part - Altstadt, where traditional pubs and restaurants are located. In some of them you go to taste German food (roast beef Rhine, veprevo knee, blood sausage) and drink (beer).
Taking a walk in Dusseldorf, at every step you will meet a variety of dining options that offer taste of traditional German and international cuisine.
Photo