Hannover Zoo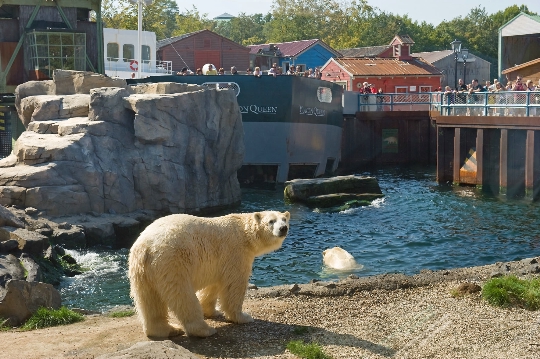 At the heart of the city is situated favorite placeHanoverians vacation with children - the local zoo in the country fifth among the oldest. It was founded in 1865 by private donations, and since then, despite the difficult times and challenges, Hanover Zoo has successfully evolved and developed into an important tourist destination.
Hannover Zoo
Among the guests of the park can be found the mostvarious animals - 22 hectares of them are more than 3000 animals and 250 species they represent. Name Hannover Zoo is well known to zoologists studying elephants, because it is here that from the middle of the last century, carried on their breeding program. Its results are impressive: Ten kids from Asian elephants and three of them - appeared in African born in the zoo of Hanover.
Pride and Achievements
City residents are proud of the title of the best zoo in2009, assigned to their favorite vacation spot for the successes and achievements. In addition to the pavilion with elephants enjoying great success with visitors cages with other African animals, incorporated in the thematic exposition "Zambezi".
How to get there?
Location of the zoo - Adenauerallee 3, 30175 from Hannover, Germany.
Reaching here can be both by public transport and by bicycle or car:
From the central train / railway station Hannover for buses 128 and 134 to the stop Zoo.
Opposite the station is 11 tram route to the zoo.
Parking for bicycles, which can be taken in rent in dozens of outlets in the city, located at the entrance to the park.
Car Parking at the zoo freeonly within 30 minutes of being. Later on parking rates are as follows - € 2.5 to 2 hours, 3.5 euros - up to 3 hours and 4.5 euros - more than 3 hours of stay. For foreign vehicles must have permission to stay in the "green zone", where the zoo is located.
Helpful information
Opening hours:
2 November until 17 March the park is open from 10.00 to 16.00.
The rest of the year - from 09.00 to 17.00.
Ticketing and entry of visitors cease one hour before closing time.
The price of tickets in the Hanover zoo is as follows:
Kids under 3 years old have the right to free access.
Children's tickets (from 3 to 5 years) worth 13.5 euros (6 to 16) - 17 euros.
Young people (17 to 24 years) has benefits and pay an entrance fee 19 euros.
Full adult ticket will cost 25 Euros.
At the zoo you can go with the dog. The price for her ticket as joke park site, regardless of age and at 9 euros. Pet must be on a leash.
Amateur photos in the park are allowed without restrictions, and professional photography have to get good at administration.
Services and contacts
In winter, the zoo Hanover you can skate, learn to play curling, get off the roller coaster rides and taste the Christmas menu in the cafe.
Official Site - www.erlebnis-zoo.de
Phone +49 511 280740
Photos Hanover Zoo