Zoo Leipzig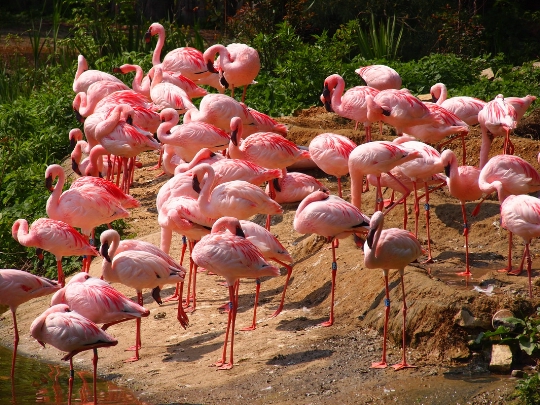 This European zoo was opened in 1878year, but in its present form it appeared on the map of the city until the end of the twentieth century. Among zoologists, scientists Zoo Leipzig - a sample of respect for the animals, and an example of unique scientific discoveries and developments in various fields of biology. A park for the visitors - an opportunity to watch his lodgers, representing a well-maintained landscaped grounds of more than 850 species.
ZOO Leipzig
The main concept of the organizers of the park -well-being of their pets, and the preservation of wildlife and wildlife. This is subject to all the work, but because the name of the park in Leipzig is synonymous with "the future of the zoo." The unique design of cages and enclosures allow to forget that animals are kept in an artificial environment, and six dozen special programs for conservation and breeding guarantee the salvation of many endangered and rare species.
The main construction materials used inZoo designs - wood, stone, glass and jute. The most popular exhibition called Gondwana today. magnitude Pavilion with a couple of football fields is a tropical forest in the middle of a huge city inhabited by dozens of different creatures.
Pride and Achievements
Themed worlds zoo in Leipzig - itAfrican savannah, steppes of Asia, the jungles of South America and the green gardens of Europe. A special pride of the organizers - the success in maintaining and even getting the offspring of such rare animals as Przewalski's horse and the maned wolf.
How to get there?
Location of the zoo - Pfaffendorfer Str. 29, 04105 Leipzig, Germany.
Find the park is very easy - it is located in the centercities. From the tram stops Wilhelm-Liebknecht-Platz and Goerdelerring to the entrance to the zoo about 500 meters. Find gates help special signs in the form of animal tracks on the pavement. In the same reference points and can pass 800 meters from the central train / railway station of Leipzig.
For those who come to the park by car, available space on the guarded parking lot next to the gate.
Helpful information
Opening hours of the zoo in Leipzig:
From November 1 to March 20 inclusive park is open from 09.00 to 17.00.
From March 21 to 30 April and from 1 until October 31, you can visit the pets from 09.00 to 18.00.
From 1 May to 30 September, the zoo is open from 09.00 to 19.00.
A special schedule for pre-holiday days - on the eve of Christmas and New Year on December 24 and 31 December gates closed at 15.00.
Price per adult - 16 euro, children - 9 Euro. Group tickets are 13 euro for every visitor, and the family will cost 40 euros for four.
Photos can be done freely.
Services and contacts
The Leipzig Zoo pleased to note children's birthday party in the restaurant to hold an event or wedding anniversary celebrations.
Official Site - www.zoo-leipzig.de.
Phone +49 341 593 3385
Photos Leipzig Zoo