Zoo in Stuttgart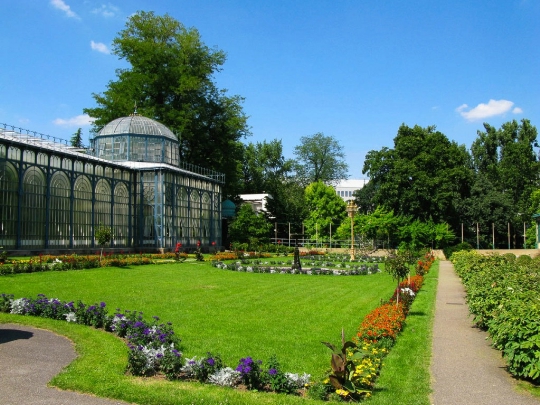 The palace complex of William the Bad in KanshtateStuttgart is familiar to many animal lovers. Here it is one of the best zoological parks in the Old World, visited by millions of people every year. Zoo Stuttgart appeared on the map in 1919 as a botanical garden, and in the middle of the twentieth century there were first to show visitors and wildlife.
William ensemble
Zoo Stuttgart familiar name and fanseclecticism. It is in this architectural style built palace and park ensemble of Wilhelm, who became today the home of eight thousand animals belonging to more than a thousand species. The kingdom of the flora in Wilhelm are 5000 species of plants collected on all continents.
The enclosures are constructed in full compliance with themodern requirements for comfortable maintenance of animals, and therefore observe the lodgers can park in almost their natural habitat. Magnificent examples of landscape design complement the landscape and in conjunction with the Stuttgart botanical garden zoo looks particularly impressive.
Pride and Achievements
In William incubator there, where you canwatch the chicks and their parents at close range. Minimum barriers between visitors and lodgers of the park - the pride of its organizers, but because there are often held biology lessons for students of local schools.
The zoo is famous for its population of primates, and,kids with families of gorillas and orang-utans were born precisely in Wilhelm. This brought the young monkeys left without mothers because of their experience in nursing zoologists Zoo in Stuttgart can be called unique.
How to get there?
Location of the zoo - Wilhelmapl. 13, 70376 Stuttgart, Germany. To reach here, you can by public transport - metro station "Park Rosenstein" or stop S-Bahn "Gare du Nord" and the appropriate tram route - U14.
Helpful information
Hours zoo depend on the time of year. He always opens at 8.15 and its offices serve visitors to 16.00. Leaving the zoo in the summer, guests must no later than 20.00. Winter - just before dusk from 16.00 to 18.00. Detailed timetable is updated every month on the official site of the object.
The price of tickets for visiting Wilhelm:
Adult - 16.00 EUR.
Children (6 to 17 years) - 8.00 euros.
Pupils and students (18 to 28 years) - 10.00 euros.
Children under 6 years old can go free, and to confirm the benefits need to present a valid ID with photo.
Services and contacts
At the zoo in Stuttgart organizedplenty of entertainment for children. There can be interesting and informative to spend a weekend, to learn crafts, participate in feeding the animals, and to celebrate his birthday.
Official Site - www.wilhelma.de.
Phone +49 711 54020.
Photos Stuttgart Zoo