Airport to Kos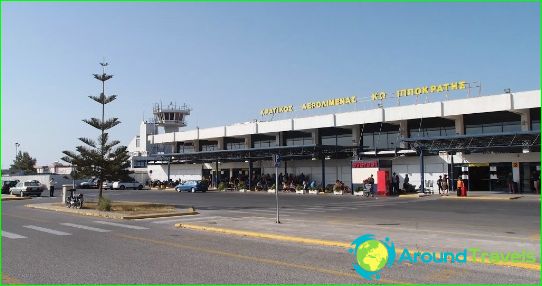 The Greek island of Kos Airport serves the islandand the administrative center of the island - the town of Kos. The airport is located about 20 kilometers from the city, near the village Antimachia. The airport serves many airlines, among which are the Aegean Airlines. This airline operates seasonal flights from Moscow and St. Petersburg.
The main flow of passengers falls on the summer season, just a year the airport served more than 2.2 million passengers.
Airport in Kos is the name of the famous Greek physician Hippocrates, who was born on this island.
History
The history of the airport at Kos begins in the spring of 1964year, then here began to make the first civilian flights. At that time, the airport has a runway length a little more than a kilometer. After 10 years there is a need to increase the length of the runway. As a result, it was 2400 meters length, this length remains today.
In the late 90s a new passenger terminal was opened, it is possible to increase the airport's capacity. A footprint was the 3 square kilometers.
services
Airport Kos is ready to provide its guests with the need for expensive services. Where you can find cafes and restaurants, which are always ready to feed the hungry passengers.
There is also a shopping area where you can find various goods - souvenirs, newspapers and magazines, gifts, drinks, etc.
For tourists traveling in business class,Airport offers a separate waiting room. And for passengers with children have a mother and child room. Besides on the territory of the terminal equipped with special play room for children.
If necessary, passengers can always ask for help in the clinic.
Hotels with car rental for lovers of independent movement of working at the airport.
Getting there
From the airport to the town of Kos can be reachedin several ways. The cheapest option - a bus. Buses run regularly to the city, they stop is not far from the terminal building. You can also take a taxi, of course, the fare will be much more expensive.
Alternatively, you can offer a rental car.
Photos Kos Airport