The airport in Heraklion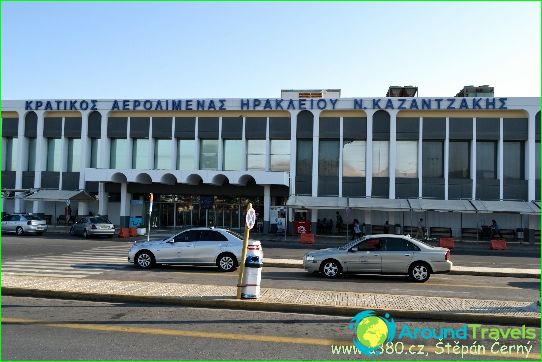 The largest airport on the Greek island of CreteIt is located in the city of Heraklion. The airport is located approximately 3 kilometers from the city center. It is the second busiest airport after Athens. At the same time the number of charter flights to the airport ranked first in the country. Every year served about 6 million passengers, the main flow falls on the summer season. At this time, the airport is heavily congested, so there may be quite a big queue.
Besides the city of Heraklion Airport servesOther nearby cities -. Agios Nikolaos, Stalida, Elounda, etc. The airport is connected by air links with many European cities - Moscow, Vienna, Geneva, Paris, Berlin, Ekaterinburg, Bratislava, Tel Aviv, and others.
The airport has two runways. Very often, the location of the airport brings inconvenience the city, as the airway passes directly over the city. By 2015, the planned opening of a new modern airport and the airport will be closed.
services
Heraklion Airport has one passengerterminal. It presents all the necessary services on the road. Hungry travelers can visit cafes and restaurants. Pleases shopping area where you can buy various goods - souvenirs, alcoholic and soft drinks, perfumes, etc.
Also on the territory of the terminal operate ATMs, banks, post office, currency exchange, luggage storage, etc.
For passengers with children have a mother and child room and a games room for children.
For passengers traveling in business class, at the airport has a VIP-hall, except for those passengers that simplified the procedure of customs control.
Transport
The airport is connected to the city by public transport. From the terminal building buses depart regularly. Ticket price will be a little more than one euro. Travel time - about 20 minutes. Also, tourists can take a taxi. The fare depends on the destination.
Alternatively, one canoffer rental car. The Company's tenants operate directly on the territory of the terminal, in the departure hall. The city can be reached by following the E75 highway.
Photos Heraklion Airport