Rhodes Airport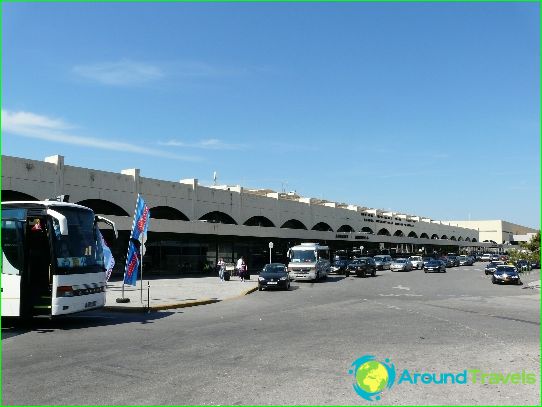 One of the most important airports in Greece "Diagoras"Located on the island of Rhodes, about 15 kilometers from the island's capital, in the village of Paradisi. Airport Rhodes occupies the fourth place in terms of passengers served annually. It is served by more than 4.2 million passengers a year.
This airport is an important hub forAirlines Aegean Airlines and Olympic Air. It is connected with many European cities, as well as with Israel, Cyprus, etc. Rhodes - an important tourist center of the country, so there is rush of passengers during the summer season.
The airport has only one runwaystrip, its length is slightly more than 3300 meters. Infrastructure is constantly evolving, but with the advent of the crisis in the country, the pace of development of the airport has decreased markedly. a new passenger terminal, which will increase airport capacity, and improve the quality of service The last major event was in 2005, when it was opened.
services
Rhodes Airport is ready to offer its guestsall the services that you might need on the road. For hungry passengers on the territory of the terminal has a café, but a square meal here will not be possible, as in the range of only snacks.
The airport offers a small number of stores, which, however, have all the necessary items. The prices do not differ from urban areas.
It is said that the airport does not provide special areas for smoking, so smokers passengers will have to refrain from their habit.
For people with children in the territory of the terminal there is a mother and child room.
In addition, a separate lounge, with a high level of comfort. It is worth noting airport staff who are always friendly and ready as quickly as possible to solve the problem.
Transport
From the airport to the nearest city is well establishedbus traffic. From the terminal building buses depart regularly to dovezut passengers to the central station. From there you can go to the main destination. The journey time will be about 40 minutes and a ticket will cost about 2 euros.
Alternatively, one canoffer a taxi, which is ready to deliver the passengers to any point in the city. The fare depends on the destination, a trip to the most remote places of the island will cost around 70 euros. And to the city center of Rhodes is 20 euros.
Photos Rhodes Airport