Airports in Greece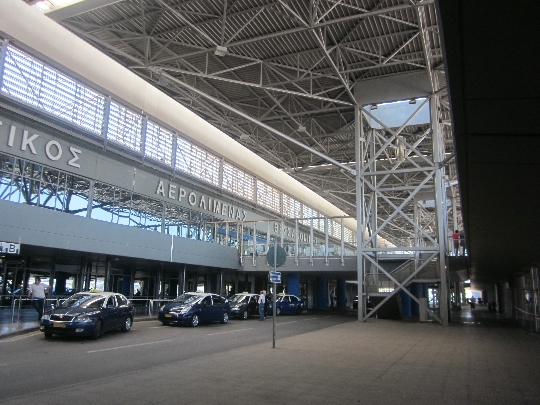 Located in the Balkans, Greece canboasting a large number of airports, including many international ones. Almost every island has the ability to accept or domestic flights, or aircraft from other countries, as the largest airport in Athens, Greece has in its schedule daily flights to Moscow. To get to the islands and beaches of Greece in the season is quite simple and direct charters from Krasnodar, Kazan, Perm and Rostov-on-Don, and at other times of the year - with a change in the capital. Travel time will be from 3.5 to 4 hours.
The international airports of Greece
In addition to the capital's international status it has several airports in Greece, which is often used by Russian explorers:
Dionysius Solomonas Airport on the island of ZakynthosLocated 5 km from the town of Zakynthos. Several dozen airlines operate scheduled and charter flights to Zakynthos. "Aeroflot" sent here from his side, Peter in the summer holiday season.
Air gates of Crete - the secondbusiest in the country, after the capital. The city where the airport is located, is called Heraklion, while Russian tourists can arrive here by seasonal flights of "Aeroflot" from Sheremetyevo. Website - www.hcaa-eleng.gr/irak.htm
Three kilometers from the town of Corfu is locatedCorfu International Airport. It takes regular charter flights from European cities during the summer, including, and aircraft "Aeroflot" from Moscow, OrenAir from Perm and St. Petersburg and "Ural Airlines" from Yekaterinburg.
Rhodes International Airport and the same nameshare capital of the island 14 km. The summer schedule of Air Greece harbor contains flights from St. Petersburg, performed by "Aeroflot" and VIM-Avia - from Moscow.
Airport Thessaloniki Macedonia has been on the landingcoupons Russian tourists very often. His only the terminal and the city Thessaloniki share 15 km and links the reliable bus service. Transfers are available in selected hotel or take a taxi.
metropolitan area
The international airport in the capital of Greece wasIt opened in 2001 year. Two of the terminal service flights several dozen airlines, including Russian "Aeroflot" and S7 Airlines. Fly to Athens can be as on the wings of many major European and global carriers, including - with French, Canadian, Brussels, Austrian, German, Chinese and American airlines.
Capital Airport Eleftherios Venizelos is home to a local company Aegean Airlines, to operate in dozens of countries, including Russia.
Transfer of passenger terminalscarried out on the subway, commuter trains and buses. Stops route buses 93, 95, 96, 97 are located between the arrival zone outputs 4 and 5 of the terminal. About an hour to take you to the central bus station of Athens, and several metro stations in the city.
Details are available on the site - www.aia.gr.
Photo