Athens - the capital of Greece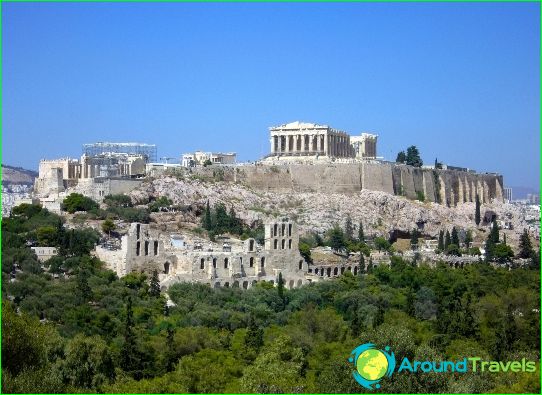 Greek capital is named after the Greek goddess of wisdom, Athena. The symbol of Athens is a magnificent architectural ensemble - the Acropolis, known around the world.
Acropolis
It refers to the Acropolis the most valuablearchitectural monuments. Buildings Acropolis hill was started even before our era. Even then it was occupied by the ancient temples and buildings. In the III century BC Acropolis, the main purpose - the protection of local residents from the raids.
Once the area was filled with beautiful Acropolissculpture, but from the former greatness quite a few left. Significant damage was caused precisely complex man, in particular by Turkish shells in 1827. The destruction was enhanced by an earthquake in 1894.
Acropolis restored several times and is nowmany buildings look great, transferring guests to the many thousands of years into the past. The original statues joined the exhibition's greatest museums in the world, and you can admire the perfect copies.
Parthenon Temple
The temple dates back to 432 BC and is the famous monument of ancient Greek civilization. It is located on the territory of the Acropolis.
The temple was built in the Doric style. Architects were Callicrates and Iktinos who dedicated his patron cities - Athena Parthenos. Her statue adorns the center of the structure. Statue itself is made of gold and ivory by Phidias.
Temple of Olympian Zeus
Once the center of the temple was decorated with a huge statueZeus, a replica of Olympian Zeus, which belonged to the great sculptor Phidias. Near the statue of Zeus was Adrian, the emperor dedicated the house. Not far from the temple of the Greeks erected the Arch of Hadrian, performs the role of crossing gates in the new urban neighborhoods.
Theatre of Dionysos
To him belongs the right to be called a placeBorn of a Greek tragedy. To this day the theater came in the form of stone ruins, although originally as a construction material were used wood. For a long time for the holidays dedicated to Dionysius here erected temporary seats and a stage. Stone, they were only in 330 BC and the theater could hold up to 17,000 spectators.
Theatre for the period of Roman rule became a venue for gladiator fights and circus performances.
Hadrian's Arch
Symbolic gate, built next to the temple of Olympian Zeus, somewhat reminiscent of the triumphal arch in Rome.
Temple of Athena Nike
The very first building of the Acropolis dedicated to Athena Nike (Wingless Victory). Construction of the temple fell on the years of the Peloponnesian War.
The material for the walls of the temple were the marble blocks. Inside you can admire the statue of Athena, holding a sword and a pomegranate, a symbol of fertility and victory.
During its existence, the temple more than onceIt destroyed. Especially major restructuring was carried out twice, in 1686 - after the church was demolished by the Turks, and in 1936 - after the destruction of the platform.
Around the World - Greece: Athens
Photo