Athens Metro: map, photos, description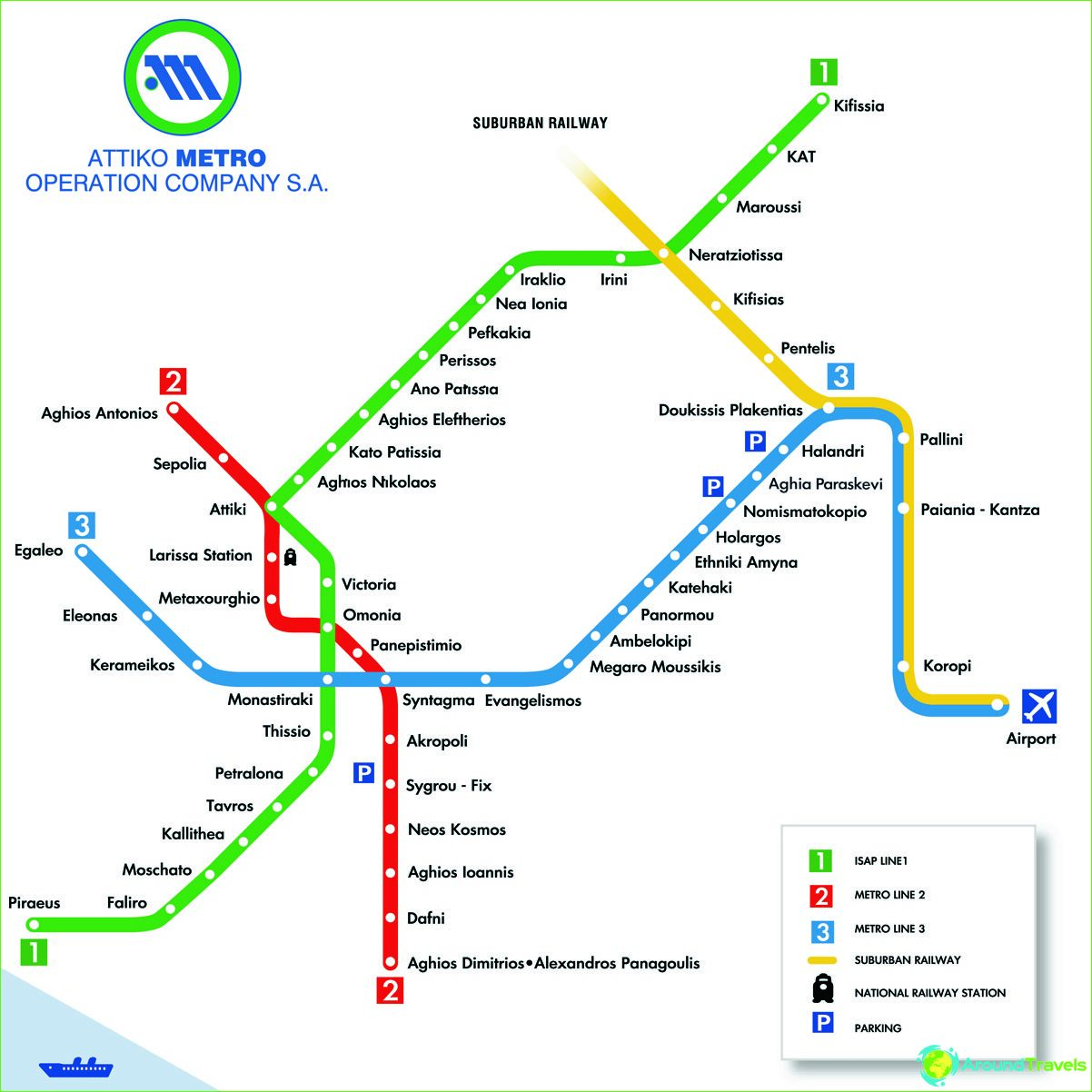 Driving Athens metro
Athens subway - is the main form of urban transport velocity of the Greek capital. Athens subway system today consists of three lines:
Line 1 - green line (24 stations, length - 25.7 km) connects the district of Piraeus and Kifissia Athens northern region, passing through the city center;
Line 2 - Red Line (14 stations, length - 11.6 km) runs from west to south-east from Agios Antonios station to station Agios Dimitrios;
Line 3 - blue line (20 stations, length - 35 km) runs from the southwest to the north through the city center from Egaleo station to Dukissis Plakentias continue to be at the airport.
The first line of the Athens Metro was introduced inoperation six years later in London, that is in 1869, and was a single-track railway line, served by a small staff, movable locomotive. Only in 1904 it was electrified line. Since then, up to the beginning of the new millennium, the Athens underground, consisting of only one branch, only modernized, but not significantly expanded. A new stage in the development of the Athens metro was the holding of the Athens Summer Olympics in 2004. The program to improve the infrastructure of the city of Athens were built and put into operation two new subway line. The first line has been substantially renovated and modernized.

Tickets for the Athens metro
Buy tickets for travel on the subway can be on Athensstation entrance. On sale is a daily and weekly tickets, as well as monthly travel card. It is necessary to closely monitor the validity transport card or ticket. Since the fines for unpaid fare is 60 times the cost of a standard ticket. To check ticket in the lobbies of stations located machines.
Purchased tickets are valid on the metro in AthensWithin 90 minutes after the first pass and can be used for multiple trips to different branches and other forms of public transport in Athens (in buses, trolleybuses, trams and commuter trains in the railway between Piraeus Magoula Koropi and from the airport).
During the construction of the Athens metro tunnels,builders were found numerous artifacts of significant interest to scientists and anyone interested in the life of the ancient city. Not hard, for 6 years, a group of archaeologists working ahead metrostroevtsev Brigade, to protect, collect and record in the registers of unique archaeological finds: the ancient streets, houses, cemeteries, shrines, casting pits, kilns, aqueducts, wells, tanks, system drainage and sewerage - everything opens up new perspectives in the study of the ancient topography of the city. Based on artifacts found at a number of stations, organized exhibitions, the most interesting of which are the stations Monastiraki and Syntagma Square. Thus, the Athens metro definitely be called an underground museum of the city, the entrance to which, by the way, is forbidden for drinks and food.

Video Metro Athens
Author: The Otpusk.ru

Photos Athens metro