Prices in Athens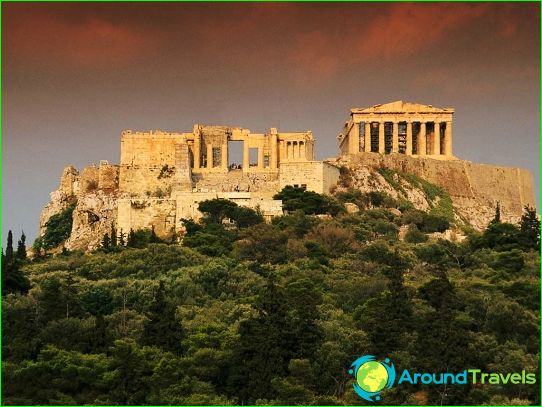 Athens - an ancient city and capital of Greece. Attractions there are many. The town consists of the old part of the central area, the port of Piraeus and the suburbs. Consider what kind of prices for services in Athens, popular with tourists.
Where to live in Athens
In the city a lot of hotels thatcorrespond to the level 5 *. The cost of rooms in them depends on the popularity of the brand and the location of places. The most expensive are considered to Hilton hotels, Athens Plaza, Royal Olympic, King George Palace. Are they in the center of Athens, and provide all kinds of services to its guests. The upper-class hotel rooms and costs from € 150. Hotels 4 * a little inferior to them. There you will also find the perfect service, high quality service and good organization of excursions. At Amalia and Herodion hotel has rooms for 80 - 100 euros per day. In Athens and operate more budget hotels, where rooms cost 40 -80 euros per day. The easiest way to book a place in advance, using the Internet. Some tourists prefer to rent a room after arrival. In homes where rented housing, hang signs with «rooms for rent» inscription. With private traders can be traded to reduce the rent. Very often tourists manage to bring down the cost of housing in the 5-10 dollars.
To stay well-suited area Moschato,which is located not very far from the center. In the center of Athens, Omonia square is located. She has a bad reputation, so it is better not to rent accommodation.
Food
The best option - breakfast at the hotel, andlunch and dinner in traditional restaurants and taverns in Athens. To save money, choose a restaurant away from the busy tourist spots. The range of dishes in the local restaurants is very wide, and the prices are quite low. Dine at the restaurant for 12 - 18 euros. In Athens, a Japanese restaurant, where the average score is 35 euros.
Tours in Athens
Tourists first came to the capital of Greece,usually interested in a sightseeing tour. During the excursion program they will visit the Acropolis. Very exciting trip on the Peloponnese. This tour is different rich program. Cost of tours in Athens range from 550 to 700 euros. The exact price depends on the hotel's star.
transport system
Navigate through Athens by bus, taxi,trams and metro. Directions to the metro is 1.4 euros. Subway stations look very interesting and more like a museum. Landing in a taxi costs about 1 euro. Further, there are over 1 km at 0.3 euros in the daytime.
Around the World - Greece: Athens
Photo