Athens suburbs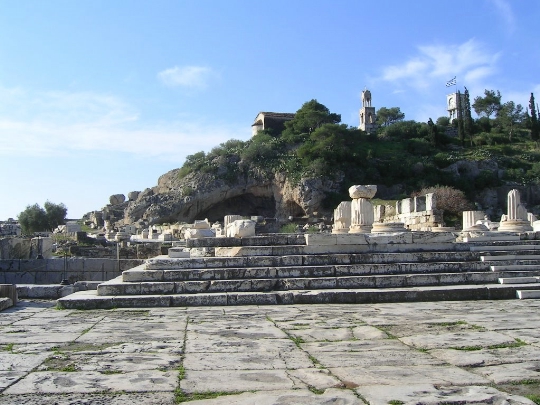 History of the Greek capital began well beforeChristmas, and today the city has become a modern metropolis, which surprisingly combines past and future, the ancient and the new buzz. The main attractions, we know from the textbooks of ancient history, located in the city center, but also the suburbs of Athens boasting constant interest of tourists.
At Mount Parnitha
Only ten kilometers north of the centercapital, and tourists are in the suburb of Athens, where one of the most important spiritual centers of Orthodox Christianity. The monastery of Agia Paraskevi in ​​Acharnes was founded by Archimandrite Jerome and is today a place of pilgrimage for thousands of faithful. The main shrine of the monastery - the image of the Virgin Mary, revered miraculous.
Secular program stay in Acharnes sure to include a visit to the Museum of Folk Art and tasting local cuisine in the authentic Greek tavernas.
At home Demeter
The Greek goddess of fertility and agriculture Demeterespecially revered in ancient times. Suburb Athens Elefsis still considered the religious center of this goddess. It was here that in ancient times held the Eleusinian Mysteries - ceremonies dedicated to Demeter.
From preserved sights in the city special historical significance have several ancient buildings:
Remains of shrines erected in the VI century BC
Fragments from Tolosa necropolis dating back to XV century BC and the sanctuary of the age of Pericles, the speaker and the commander, who lived in Athens in the V century BC
The two triumphal arches of ancient Roman buildings and the temple of Artemis in the same period.
In Eleusis Archaeological Museum can be seeninteresting artifacts found during excavations in the suburb of Athens. The exhibition presents rarities relating to the pre-Christian period, which covered the years 1950-1580 BC. e.
In Greece there is everything!
Shopaholics prefer to save time even induring a beach holiday and easily find the place for the best shopping in any journey. Suburbs of Athens called Glyfada the beautiful satisfy the needs of any mod, because there are open dozens of elegant boutiques and shops.
Those who are more important to satisfy the hunger of the discoverer,in Glyfada, too, there is something to do. The beaches here are distinguished by a particularly well-groomed, and restaurants - a refined menu. Prices, however, are designed primarily for wealthy guests.
Photo