Athens symbol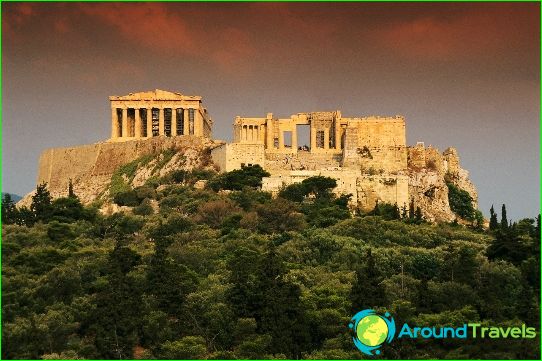 Greece's capital allows tourists to indulge yourselfshopping in the Plaka district, the whole family to spend time at the zoo, explore the picturesque surroundings of the mountain of Lycabettus, immerse yourself in the nightlife, especially in the areas of Psiri and Kolonaki ...
Parthenon
Despite the fact that the symbol of AthensSituated on the Acropolis, it deserves special mention. The temple, dedicated to Athena, was built under the supervision of the sculptor Phidias, who created many sculptures. And construction is unique in that its marble pillars are located in relation to each other at a certain angle, allowing you to see the facade of the Parthenon staring from three sides. Today, the Parthenon half destroyed, but that does not stop to gather around him crowds of tourists.
Acropolis of Athens
Acropolis - the main symbol of Athens, which pleasesGuests presence of a viewing platform in the eastern part (in the morning then raise the national flag of Greece, and at sunset - dipped) - a hill, a height of over 150 meters, will be able to see many of the sights of Athens, the place, especially Plaka, the Temple of Zeus and Lycabettus Hill.
On the territory of the Acropolis travelers will find a lot of facilities for inspection, among which are the following:
Erechtheion Temple, built by the canons of the Ionic order, has an asymmetric layout of the original; until today the best preserved portico Pandroseyon (north side).
Temple of Athena Nike: a viewing of his sculptural fragments frizovstoit go to the Acropolis Museum (now the temple is decorated with copies thereof). And since the Temple (Ionic style) restored, it has been preserved quite well, that should please those wishing to admire them.
Odeon of Herodes Atticus: It has survived almost the entire structure semicircular amphitheater (the exception - the scenery and the roof), and in May and October there Athens Festival is held, followed by concerts and theater performances.
Propylaea: when their construction was used marble gray and white; they represented 6 Doric columns, 5 doors, central corridor and the adjacent wings (reconstruction carried out in 2009).
As at the foot of the Acropolis is located new museum, to be sure to look into (show the guests not less than 4,000 exhibits; open 6 permanent exhibitions).
Address: Acropolis; ticket price is 12 euros; Website: www.odysseus.culture.gr
It is worth noting that on the eve of New Year holidaysAcropolis pampers travelers interesting festive program, presented in the form of music concerts, tasting local dishes, thematic presentations for adults, a variety of performances and workshops for children.
Photo