Water parks in Athens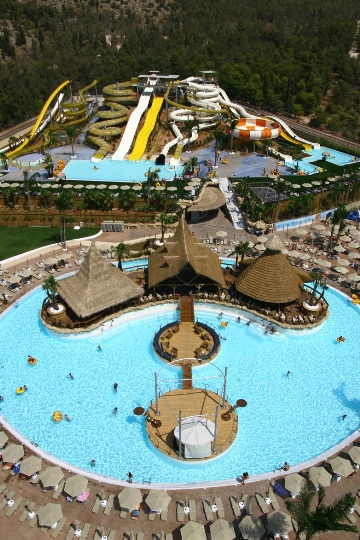 Visiting Athens Water Park may well bean alternative to a beach holiday - guests here in addition to the water attractions to take part in team games on the water and a variety of entertainment events (concerts, discos, performances of the best DJs).
Water parks in Athens
Waterpark "Copa Copana" features:
pools, slides and tunnels, "turbo-descent", "Rafting", "Black Hole", "Large family descent";
children's area in the form of fairy-tale town on the water with a pirate ship (other than a water park for children in the playground, which features houses, labyrinths, trampolines);
cafes and bars;
shop, which sells products for water and beach holidays.
Prices for adults - 18 euros for students andStudents - 14 euros for 3-6 year olds - 7 euros. It is worth noting that in the "Copa Copana" offers visitors not only in summer but in the winter - this time of year they will be able to take advantage of the snowy slopes (it's important for skiers and snowboarders) and the ice rink.
During the holidays you can visit in Athens stilla water park - "Oropos Water Park" (it is located 3 kilometers from the Greek capital) away, for sure, be delighted presence of its own private beach and around 20 rides. Adults and children 12 years of age pay an entrance fee is 9 euros.
Water Activities in Athens
You want to stay on the holiday in a hotel with a water park? Note the "Sofitel Athens Airport", "Royal Olympic Hotel", "Divani Caravel" and others.
Do not think in the holiday without a beach holiday? You are advised to go to Alimos Beach (active tourists will be delighted opportunities for water skiing and windsurfing, and couples with children - the presence of children's playgrounds and water slides), Kavouri Beach (on this free beach you can at affordable price to rent a beach chair and umbrella, beach volleyball, as well as close to the fish shop, where you will be able to try and take a fish dish), Voula beach (family travelers it will please its clean sandy bottom and active rest - availability of volleyball and tennis courts), Votsalakiya beach ( lovers of water sports).
If desired, you can go to a mineral lakeVouliagmeni (fame brought him medicinal properties; the entrance to the lake - 8 euros) - here you can swim, especially suffering from skin diseases and rheumatic pains, and have problems with the musculoskeletal system; sunbathing with a stay on the sunbeds. It is worth noting that in a lake inhabited by smaller fish - they "make" within the water peeling (fish eat dead skin cells).
Resting in Athens, do not miss the opportunitygo on a three-day cruise to the Greek islands on a comfortable cruise ship (in the voyage you will be accompanied by a guide - it will tell a lot of interesting things about the culture and history of Greece).
Photo