Where to eat in Athens?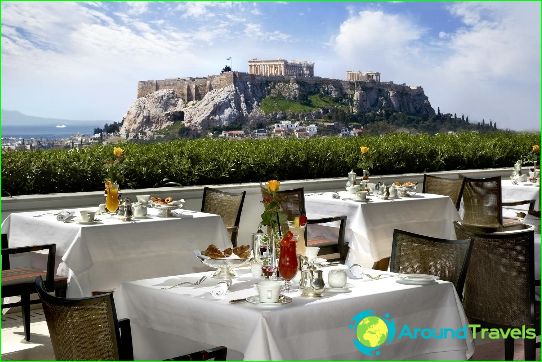 You are going to go on holiday in the capital of Greece? Surely you are interested in where to eat in Athens. The town is filled with cafes, taverns and restaurants.
If you decide to try the Athenian and Greekdishes, the authentic places offer you a taste stuffed vine leaves, fried calamari, shrimp, octopus, meatballs, pastitsio (lamb or goat meat with tomatoes and pasta), paidakia (burgers from goat or lamb), loukoumades (round donuts, deep fried with honey and cinnamon).
Where to eat in Athens cheap?
Quality service, average prices,authentic cuisine awaits you in the food establishments in Plaka in Athens. Inexpensive meal possible in traditional eateries where you can order souvlaki - skewers with pita bread and slices of lemon. Pretty cheap and fast you can eat in tiropitadiko - institutions serving tiropites - layer cake with spinach, cheese and other toppings.
Where to eat in Athens tasty?
Vyzantino: This restaurant specializes in Greek cuisine, you can sit at tables located both indoors and outdoors. It is recommended to be treated with roasted potatoes with cacık sauce, veal with eggplant, pie stuffed with spinach and goat cheese, fried cod with garlic sauce.
Mystic Pizza & Pasta: this restaurant is perfect for supporters of a healthy lifestyle (no smoking in the facility, added in food hemp seeds contain healthy amino acids and proteins, and the dishes are prepared from organic products). Here you can taste typical Italian dishes - pizza, pasta, risotto, fresh salads, desserts ...
Gregory's & Coffeeright: in addition to espresso and cappuccino in the café you can taste Greek coffee on the old recipe (it is cooked in hot ashes), herbal tea with Greek Saffron and soft drinks based on coffee. In addition, there is a wide selection of snacks in the form of pies, paninis, baguettes, fruit and vegetable salads, different kinds of cheese.
Brettos: This restaurant offers to sit on a wicker chair at a marble table, so you can enjoy the traditional Greek cuisine, as well as the national alcohol and more than 30 kinds of liqueurs.
Lalloudes: relaxing in the restaurant, you can enjoy the opening here overlooking the sea and serves Greek and Italian dishes - moussaka with cheese, pasta, Greek pie kandaifi.
Gastronomic tours of Athens
On the gastronomic city tour you will visit during 'flavoring corners "of the historical center, where you try traditional dishes, coffee, wine, sweets.
In Athens, you can enjoy the city, rising to Lycabettus Hill, see the historical sights, visit the many museums, enjoy Greek cuisine.
Photo