Christmas in Greece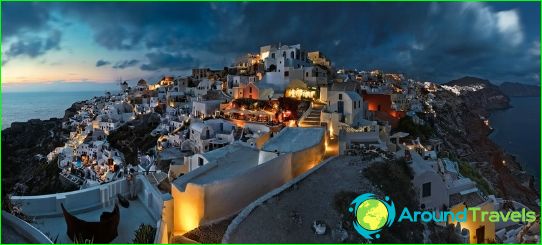 Before the advent of Easter Week in GreeceIt decided to decorate the Christmas tree today. And once the master of the house went to the forest and brought the mighty spruce or olive, to within a few days from Christmas to Epiphany burn wood in a home and drive away evil spirits. If you want to know what other holiday customs of worship modern Greeks, go on a winter vacation in this wonderful country and celebrate Christmas in Greece.
Evil spirits do not belong here!
One of the surviving Greek tradition - cleaningfireplaces. Before Christmas come in Greece, the hostess invited chimney and get rid of the old ash and soot in the chimney. It is believed that it does not give the evil spirits to enter the house.
Christmas - a great reason to get together with the whole familyat the lighted fireplace and taste the best dishes prepared for the festive table. The main thing - it is a special bread and pork. They are symbols of prosperity and abundance. Respect Greeks also baked turkey with chestnuts, roast wild boar, pickled cabbage and stuffed grape leaves. For dessert, the hostess serves kurabe and diples and syrup and nuts.


Carols: bestow sweet
Ancient tradition for Christmas in Greece - walkingwith carols from house to house. Early in the morning the kids are going to small companies and go to the neighbors. They perform songs of biblical scenes and ring Trigon - special metal triangles. This ring, according to locals, dispersing evil forces and cleans the house. All were satisfied: the owners of dwellings magic "cleaning" and their guests sweet offerings.
At museums and exhibition halls
Ride for Christmas in Greece and can devotesightseeing that the country does not count. Athens - a true open-air museum, and everyone here is what to watch. For example, her church: large metropolitan, which is the Cathedral, and St. Fedorov temple..
Ancient Greek monuments - this is an important part ofGreek and world culture, but because the tour to Greece should include a few days in the capital. Order a tour of Athens can be a travel agent in Russia or on the spot, in Greece. As a rule, it takes place on the bus, which stops at the most important city attractions.
Christmas in Greece can and should see itseyes to plunge into the atmosphere of togetherness wonderful people. They are not afraid of difficulties and hardships they endured many wars and upheavals, but through the centuries were able to carry the warmth of their hearts and the unique hospitality that allows each tourist coming to Greece a guest, and leave her a good friend.
Photos of Christmas in Greece