Education in Greece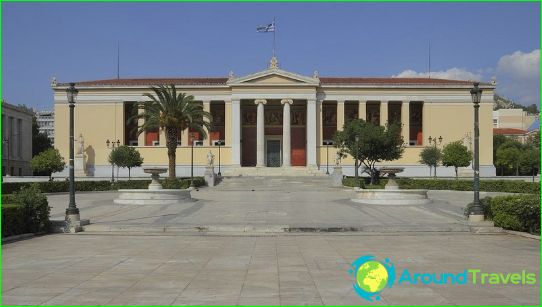 Greece - a country with a wonderful climate, rich and interesting culture and many unique attractions ... Greece is ideal for both leisure and education.
The benefits of education in Greece:
Tuition is cheap enough (foreigners as the inhabitants have the right to receive free education);
Foreign students are granted privileges (free accommodation in student hostel, meals, insurance, reduced fare);
Education in the Greek universities allows you to get a diploma European standard.
Higher education in Greece
Get a diploma of higher education can be,She is studying at Greek universities with an academic or a technology start-ups. Greek Universities admit that future applicants applied for admission in different universities (20 faculties): this list should be attached to the certificate of secondary education.
Important: foreigners do not need to take the entrance examinations for admission, but training in universities is conducted exclusively in Greek (a contest of school certificates). If the student does not speak the Greek language, he must necessarily visit paid language courses (from September to June). You can use the 2-month intensive language courses if desired. Before you begin to study the profile of foreign students a year are taught only Greek, and then pass the language exam and receive a certificate.
Some Greek universities offer instruction in English. To enroll in a school will have to take IELTS or TOEFL-exam in English.
As tourism in Greece is the mostprofitable areas of the economy, to get an education in tourism and hotel management is considered very prestigious. Being trained in these occupations, foreign students have the opportunity to do an internship in one of the best cruise companies (practice paid). So, you can go to university "Alpine Center" and "Trinity International Hospitality Studies" or business school "Alpine Center".
Working while studying
During the program, students can work (4 hours per day), the employer must arrange and pay them labor insurance, bonuses, vacation pay, sick.
As a student of Greek university, you are automaticallyget a residence permit in Europe. And educated in Greece, you will not only master the quality of knowledge, but also get an opportunity to find a job in Europe.
Photos schools in Greece