Holidays in Greece in January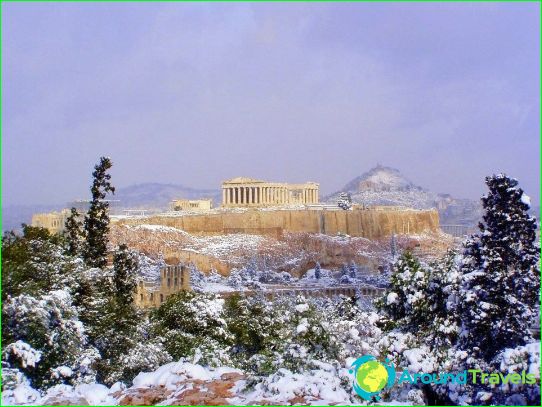 If you are planning a vacation trip to Greecein January, be prepared for what the weather will be hot and sunny and offering a beach holiday. January is considered the coldest month of the year. Despite this, in heavy frosts and should not count.
Weather in Greece in January
In Thessaloniki, the temperature is + 2-9C. The precipitation is less in comparison with December. As of January has an average of eight rainy days. However, sometimes it may be cooling with snowfall, leading to the appearance of black ice. Such conditions can be noted on the Halkidiki peninsula.
In the city of Larissa, in the homeland of Achilles, the day can be + 10C, but in the evening and at night will be cooler + 2C. In this regard, do without warm clothing.
You are the heat-loving man? So, the best area for recreation - is south. In Athens, the day can be + 13C, and at night + 7C. Livni can not be called frequent visitors.
In the Peloponnese, which is the southern edge of mainland Greece, in January, there are about thirteen rainy days. However, the temperature regime pleases: + 6-15C.
Speaking of the Greek island, it may be noteda significant amount of rainfall. The champion is the Ionian Islands. For example, in Corfu in January can be 14 rainy days, but the temperature fluctuates within + 6-14C, really happy.
Holidays and festivals in Greece in January
When planning a vacation in Greece in January, get ready for an amazing holiday.
First of January - Day of St. Basil the Great. On this holiday the family has to get together at one table. The main dish pie becomes "vasilopita", which made coins to hide wealth, happiness.
Sixth of January in Greece celebrate Epiphany. On this day in open reservoirs held water consecration ritual, celebration of worship. On January 8 holiday falls Ginekokratiya when men should do all the housework.
In Greece in January are unusual carnivals. For example, the number 17, the day of St. Anthony in Patras begin masquerade processions, stretching for six weeks. In Kastoria annually Ragutsariya carnival lasting three days dedicated to the ritual expulsion of evil spirits. Naoussa during festivities central fountain filled with wine. In Thessaloniki during festive processions taken hold fire shows and yogurt fights.
Visited Greece in January, this is a great opportunity to enjoy the rich cultural and sports!
The most beautiful parts of the world - Greece
Photos holidays in Greece