Holidays in Greece in July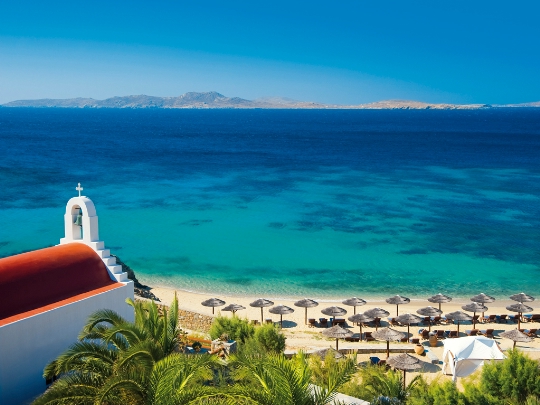 For a long time the country remained out of the spotlighttourists from the former socialist countries because of the relatively high prices on vacation. Over the past few years, rapid convergence is the Greek resorts and guests from Eastern European countries. The first is much reduced prices, in this regard, tourists have access to the famous ancient Greek monuments and beautiful beaches.
Travelers with a fondness for hot sun,the transparent waters of the sea and developed beach service can safely choose holidays in Greece in July. The important point, this is an extremely hot month, so for those who have health problems, it is better to choose the later periods to stay here. And hotter all the islands, the capital of Greece, on the temperature regime close to him, but still the climate is milder, longer excursions.
Weather in Greece in July
Specificity is that the height of the summer on the Greekresorts characterized by temperature records, which stand for the forces is not for everyone. Forecasters say that the average performance in July +35 ° C air, +26 ° C water. The lack of rain in these circumstances is not an advantage. A joy for the tourists on the coast, to get into the sea and does not stick out from there till evening. Either wait for the sea breeze and happy to substitute his tanned face.
Hellenic Theatre Festival
For half a century in the city of Epidaurus, this ancientsettlement of Greeks, held the feast of theater, collecting great art professionals and fans. The countdown celebrations begin with the last Friday in June, the main events occur in the next two months.
Repose gradually replace each other, allowingactors from different countries and continents to demonstrate mastery of the ancient Greek stage of Epidaurus. Once she was buried under a thick layer of earth and almost lost to modernity. After the restoration of the stage floor and auditorium guests of the festival appear amazingly beautiful spectacle. And the actors say the extraordinary acoustics of the hall, which allows to speak almost in a whisper, bringing the meaning of the words to the latest series.
Hellenic Festival is interesting not only to fanstheatrical activity, but also lovers of ancient Greek sites. Approximately the same mission and the festival, which is held at the home of the famous Odysseus in Ithaca. In the center of attention - the theater in conjunction with the music.
Greek Folklore Festival
In Ioannina in mid-July begins folklorefestival, which also takes time more than one week. Tourists who are lucky enough to attend the etnoprazdnike will be able to hear the voices of ancient times and get to know the true ancient dances of Greece, and not invented by American actors Sirtaki.
The most beautiful parts of the world - Greece
Photos holidays in Greece