Holidays in Greece with children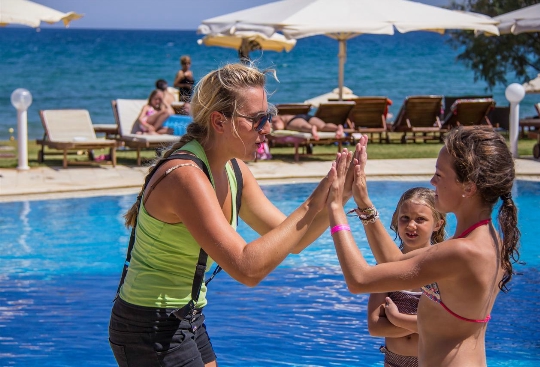 Greece - the perfect venue for anyholiday or vacation. This country has everything to feel happy: and the blue sea and the hot sun, and a great menu, cozy restaurants, and home-style comfort and a rich excursion program. And the locals love children and because vacation in Greece with children may seem tedious even to the most exhausted parents in the world.
"For" or "Against"?
Plus for a relaxing family holiday in Greece it is in any round abound:
The relatively short flight will not have time to tire even the youngest travelers.
The swimming season at local resorts starts early, and so we can have time to relax before the main influx of tourists in the middle of the school holidays.
The restaurant menu has a lot of milkproducts. Main cafe is focused on kids and parents and have a special children's meals. In addition, the Greeks care about the convenience of families with young children and every restaurant there is not only a comfortable child seat, but few waiters who want to work out with the crumbs, while parents dine.
The climate on the local resorts for a holiday in Greece with the children perfectly.
Most of the family hotels are staffed by professional animators and educators can make the rest of kids diverse and useful.
The only drawback in the organization of holidays in Greece with children may be too great popularity of such tours, and therefore should take care of booking tickets in advance.
Preparing properly
Special vaccinations for a trip with childrenGreece is not required. It is necessary to have a medical travel insurance for the duration of stay in the country and a sunscreen with a high factor for sensitive baby skin. The optimal time to relax with the smallest - from May to June and from late summer to mid-autumn.
Passwords turnout addresses
For a holiday in Greece with children experienced hikersThey prefer to Crete and Halkidiki peninsula and the island of Kos. Here are the biggest sand beaches with a gentle entrance into the sea and perfectly clean water, for which many of them awarded honorary certificates of the Blue Flag. Family hotels in these resorts can boast a diverse animation program and modern water parks, and to rest the prices are quite affordable even large families.
Photo