Greece Holidays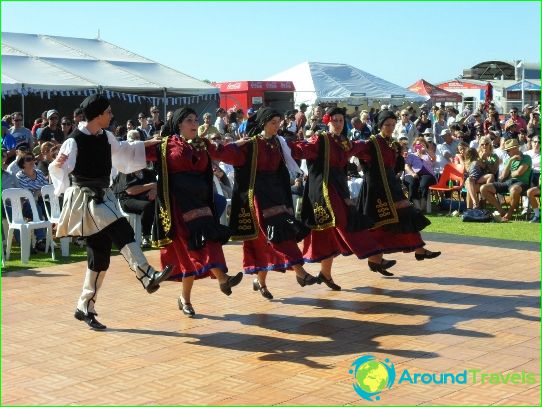 Greece is ready to offer its guests allthe delights of leisure tourism. Here the sun shines almost all year round. The country is washed by four seas, and its water area just oversaturated islands. Picturesque ruins and museums that hold the real treasures, fruit trees and gorgeous Mediterranean cuisine. Under a similar diversity and Greece holidays, which are abundant in the local calendar.
Pirovassiya
holiday roots go deep into the pagantimes when people worshiped fire, the sun, wind and water. Pirrovassiya Literally translated as "walking on fire." The Church does not recognize the holiday, but the inhabitants of the northern part of the country organize the procession every year. According to them, Pirovassiya - that the Christian celebration, as its patrons are Saints Constantine and Helena.
The celebration lasts for three days, starting from 21 May. The event begins with a general repentance, when the inhabitants of towns and cities rose to the sky praying. it looks very unusual for the uninitiated, given that the Greeks put his heart and soul into them, sincerely believing in what is happening. All festive night around bonfires, which the morning leave behind only embers. It was at this moment begins the most interesting.
Braves from the crowd of revelers, picking up the icons,go for a walk on the crimson glow of the coals. It is surprising, but ognehodtsev feet remain intact. It is believed that it is a gift patrons feast. In 1250 the icon of the saints have been rescued from a burning church and now in this magical night people can walk on fire, unable to hurt them.
Assumption
Tinos Island became the keeper of the holy iconDame Tinosskoy. Newfound miracle, it is the Virgin Mary, prayer ascends. It is located in the image of the Church Greater Grace, which was built exactly on the spot where he found the icon. Every year a great number of pilgrims come here to pass the Penitential way. The road to the temple (from the port) believers overcome on their knees, thanks to the Virgin Mary for all the graces.
In the evening, around the temple committed religious procession, and then the fun begins. Everywhere heard music and people having a great time at the fair.
Ginaykratiya
In fact, it is our native March 8, which in Greece is celebrated on January 8th. On this day women receive unlimited power and used this gift to "one hundred percent".
Men just have to spend the whole day forusual "feminine" things. Today, all the household chores fall on their shoulders, and the ladies go to kafetenii. This small, cozy cafe, where the main visitors are men. There they drink coffee, conduct small talk, discussing news and politics. But on January 8 visitor kafeteny - only women.
Photo