Railways in Greece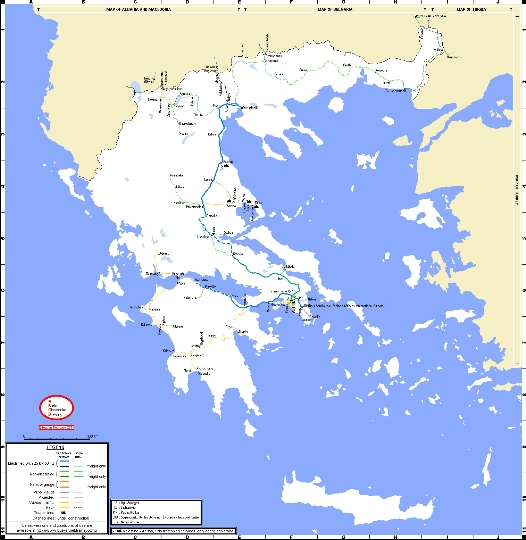 Railways in Greece by popularitysignificantly losing the bus and water transport. Features of the relief in the country determined the difficulties of the railway sector. Most of the w / e ways of serving the state "Hellenic Railways Organisation" or "the OSE". The company was formed in Athens in 1971. The country has quite a few routes that are designed to train. The railway is mainly used to move between the major cities and towns. The network has a length of about 2570 km.
Very popular is the line betweenThessaloniki and Athens. The distance between these cities fast train overcomes 4 hours. Important branches connect Athens with Corinth, Alexandroupoli and other cities. From the Greek capital trains go to the Peloponnese (southern direction) and in Thessaloniki (northern direction). The most scenic route Diakopton - Kalavryta, bleaching that deserves attention. International lines go from Greece to Bulgaria, Serbia, Turkey, Romania.
In Greece, use the track of various sizes in relationwith mountainous terrain. With this move the country a variety of trains. The Greek railways are used for the movement of conventional trains, trains Intercity Express and Intercity. Standard trains Greece does not have a high level of service and comfort. Exceptions are high-speed Intercity Express formulations.
Fare
Prices of railway tickets depend on the date oftravel and time of purchase. Pre-trip planning, you can save well. See the timetables of trains can be the Greek national carrier online www.trainose.gr, which is available in English. Get to Thessaloniki from Athens, you can for 47 euros, Kalambaka - for 22 euros.
Travelers discount travel«InterRail Greece Pass» 3-8 days. The card is available only to foreign tourists. Get discounts on travel can be on youth's travel valid for 3-8 days. On the international train tickets are sold not only in offices, but also online. A passenger on the Internet can view the route, train schedules and buy tickets. The electronic ticket must print and present the controller before boarding the train.
Central station
the country's main railway station is locatedin Athens. It consists of two stations: the Peloponnese and Larissa. Communication with the southern regions of Greece provides the first station. The second is used for the arrival and departure of trains along the northern routes. The station has a simple design and modest furnishings.
Photo