Kitchen Greece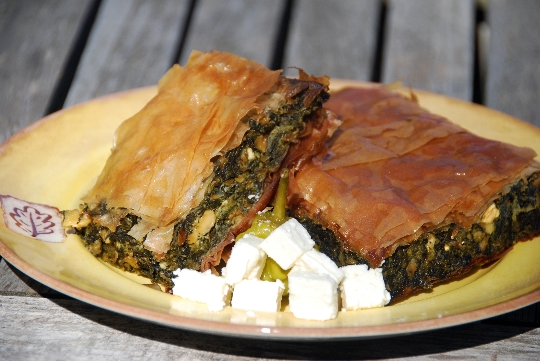 What is the cuisine of Greece? Greek cuisine - a dish prepared on the basis of cheese, vegetables, olives and seafood, as a supplement to that used spices, lemon juice and olive oil.
The national cuisine of Greece
In Greek cooking was influenced by Turkish, Slavic, Italian iarabskie culinary school, causing it to become a self-attraction of the country.
National dishes are prepared usingmeat (lamb), cheeses and seafood, from the first courses popular lentil soup - "fakes", as, for example, on Crete at a premium vegetables - they then stuffed, fried, steamed, baked (worth a try "briam" - Greek vegetable stew ) and fish (typically, it is cooked in an open fire).
Main Greek cuisine:
"Stifado" (stew with onions and orange);
"Patudo" (lamb stuffed with cheese and liver);
"Pastitsio" (macaroni casserole with meat stuffing);
"Putya-Glick" (pie with walnut filling);
"Melidzana psiti" (baked dish with tomatoes, eggplant and cheese).
Where to try the national cuisine?
For inexpensive and delicious advisablego to the tavern (where, for example, serves "moussaka" - arranged in layers potatoes, beef and eggplant sauce "bechamel") or a tavern-psistarya (here serving meat roasted on a spit or grilled, for example, "paidakya" -barani ribs ).
In Athens, you can taste national cuisine in"Acropolis View" (this restaurant is imbued with the atmosphere of ancient Athens, where to order the dish of the day from the chef); Thessaloniki - the tavern "1901" (where it is recommended to order the mussels, "moussaka", sauce beef and lamb); Chalkidiki (Hanioti) - in the restaurant "Arhontico" (here it is necessary to eat feta cheese, baked in herbs, as well as the "souvlaki" -shashlychkami from different types of meat on skewers); in Corfu (Paleokastritsa) - in the "Nereids Restaurant" (recommended to try the fish and seafood prepared in different ways, as well as lamb with baked potatoes).
Cooking classes in Greece
On the island of Ikaria you will learn to cook healthy andsimple Greek dishes (the chef Diana Kochias) in the form of pancakes with honey and cinnamon; shrimp in a creamy sauce; soufiko (Greek fulfillment of ratatouille); tsadiks with garlic-cucumber-yogurt sauce (training will be held at the 100-year-old villa). And before cooking offers food vendors to visit - cheese factory Diamanto Plaka, bakery Kollia, distillery Nicos.
You do not know when to come to Greece? Of course, during the Festival of Aegina pistachios (September), festival of chestnuts (Arna, Peloponnese, October) festivals "Thessaloniki Food Festival" (Thessaloniki, January) and "Agro Quality Festival" (Athens, April-May).
Photo