Prices in Rhodes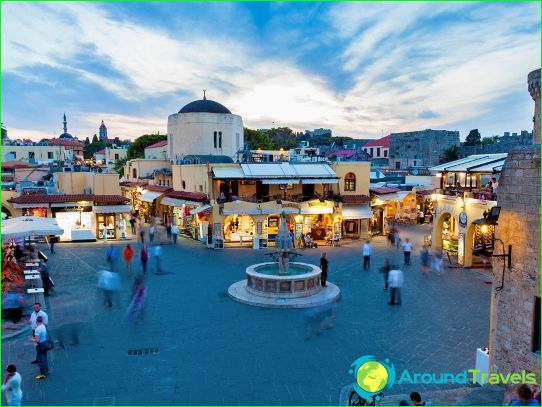 If you are going to rest on Rhodes, youcertainly concerned about the issue, and how much money is needed? Rhodes Rates are different, depending on the requests of tourists. One vacationer enough 400 euros for a week, and the other is small and 1,000 euros. Activities on the island is very diverse. The costs depend on the services and entertainment that you might be interested.
Where to stay tourists
Tourism sector in Greece developed excellently. Therefore, any offering a full range of services for tourists. Even in economy class tourist hotels offer a decent service and comfort. In Rhodes hotels have internet, which is very important for many people. The locals are very hospitable, which is reflected in the quality of service. The minimum cost of accommodation in a nice hotel is 50-70 euros per person per day. This does not include the cost of excursions, entertainment and rental cars. With a need to take not less than 200 euros, if you want to properly relax. In Rhodes, there are many budget hotels. The average rate is 20 - 1,000 euros per day for 1 person. The island has a network of low-cost hotels in the Atrium, which includes institutions, designed for families with children.
excursion program
Sightseeing tour of Rhodes is 60 euros. Surcharge 13 more euros will have the tourist, who intends to have lunch in the program. Take a visit to Lindos and sources can be for 35 euros or more. Lindos attracts all visitors. There you can visit the ancient fortress, the acropolis and the narrow streets. The biggest village on the island - Archangelos. Nearby sources, springs, spurting out from under the plane trees.
A trip to the island of Symi costs 25 euros. Log in terms colifor ms worth 2.5 euros. You can buy a single ticket, which gives the right to visit all the museums and palaces of Old Rhodes. The ticket price is 10 euros. From entertainment tourists prefer beach holidays. Rent an umbrella and chaise longue can be 6 euros. A visit to the water park - 15 euros for a child and € 20 for an adult. The main attraction of the island is the sea. It can be seen from any point of Rhodes. There are beaches of small pebbles and sand. Transparent and clear sea makes it a beach vacation a memorable one.
Dining in Rhodes
The resort has a tavern with modest prices andexpensive restaurants. Dine at the tavern for 15-30 euros. Dinner with wine and freshly prepared fish costs 50 euros. The cost of the Greek salad is 4 euros, 10 euros pitstsy-.
Photo