Prices in Greece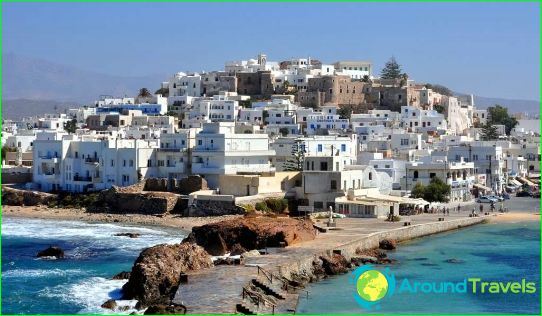 Prices in Greece can not be called strong "biting" - they are at the average European level.
Shopping and souvenirs
On shopping in Greece, it is advisable to come to the season of sales - in February-March and August-September.
In memory of Greece should bring:
Greek products and crafts (ceramics, icons, statues of alabaster and marble, antique vases, carpets, gold jewelry with ancient Greek motifs);
clothes, shoes, accessories, fur products;
spices, olive oil, wine, ouzo, honey thyme.
Buying fur coats in Greece could be profitableinvestment on the grounds that their quality is at a height, and the cost - much cheaper than in other countries boutiques. Acquire the best in Kastoria fur - fur capital of Greece: here you run away from the eyes of the widest range of models of all kinds of fur (mink, chinchilla, sable, lynx). At your service - shops and factories. As the price of fur coats, all depends on the style, the factory of the manufacturer, fur and other factors, but usually, they start from 1000 euros.
Excursions
On the 4-hour sightseeing tour of Athens youAdmire the Presidential Palace, the Olympic Stadium, the Temple of Olympian Zeus. And at the end of the excursion program you will visit the ancient Acropolis. Approximate cost of the tour - 45 euros.
4-hour guided tour you can take in Meteora -beautiful Greek region: in front of your eyes will be opened steep cliffs and monasteries built on the tops of rocks (you can see some of them). Approximate cost of the tour - 60 euros.
Entertainment
Greece offers its guests anumerous water parks. So, in an aqueous complex Water City, which is located in Crete, offers 23 water slides, more than 10 swimming pools, 2 waterfalls. Estimated cost - EUR 22 per adult and 15 euros - per child.
If you decide to go windsurfing in Greece, over 5 lessons (basic course), 2-hour, you pay 170 euros, and for the lease of equipment - 15 euros (per hour) and 130 euros (10 hours).
You prefer water sports entertainment? You should familiarize yourself with exemplary prices for them: water skiing will cost you 30 euros, water bike - 35 euros, the board - 30 euros a banana - 15 euros.
Transport
When traveling by bus, subway, trolley, orTram in the Greek cities, you pay about 1 euro for 1 trip. If you decide to order a taxi, you have to pay for landing 3 euros + 0.5 euros per kilometer.
A car hire in Greece can be a minimum of 42 euros per day (the first day of mileage limit is 300 km, and from the 2nd day - acts unlimited mileage limit).
Going on holiday in Greece, it is worth considering that the daily minimum cost will cost you 45 euros per person (for the money you will be able to eat in cheap restaurants and staying at the campsite).
The most beautiful parts of the world - Greece
Photo